This Asparagus Caprese Salad with tomatoes and mozzarella tastes wonderfully refreshing, with a particularly pleasant crunch. Paired with a quick and easy preparation, this vegetarian, healthy, and perfect side dish is a great way to kick off asparagus season.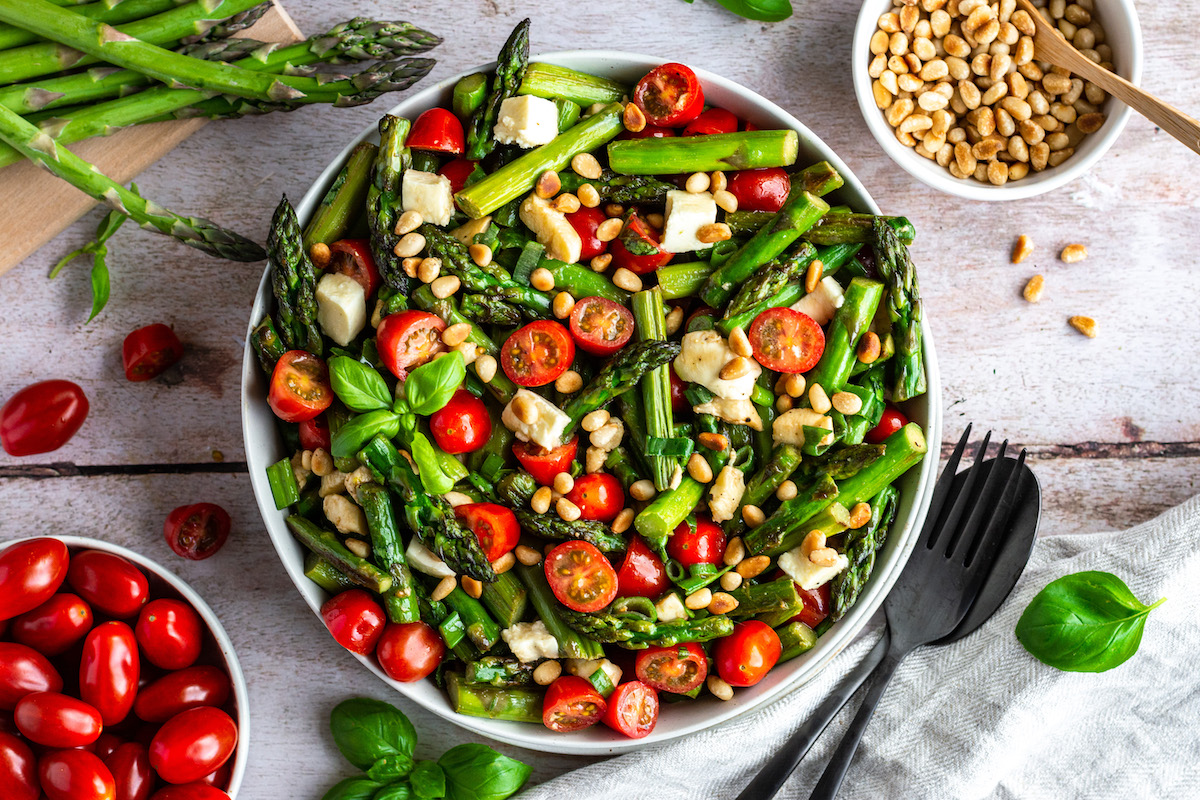 Jump to:
Why you'll love this Caprese Asparagus Salad
Quick and easy to prepare: My goal is to keep this recipe as simple as possible. Only a few everyday ingredients are required and approximately 25 minutes of your time, that's it! Yet another delicious concoction to add to your collection. Simple and stress-free cooking. What else could we want, right?
Delicious: Who would have thought that a salad this easy could also be this tasty? Well, ME! Hence, me sharing this recipe with you today ;). The perfect fusion of sweet and sour, crunchy and soft textures. Visually stunning and a most welcome delight for your taste buds!
Healthy: This recipe is packed with beneficial and essential nutrients. It's vegetarian, naturally gluten-free, high in fiber and to top it all off, low-carb. To make a long story short, this dish pretty much checks all the boxes when it comes to healthy yet flavorful eats.
Ingredients and Alternatives
You will only require a few everyday ingredients to create this healthy asparagus salad. Find further tips and other helpful information right here: 
Asparagus: As already implied by its title, green asparagus is the centerpiece of our superb dish. Its short prep time contributes to an overall quick salad assembly. You'll be feeling like Superwoman… (or Superman), lightning speed and all. Focus, Lisa, focus. Back to business. 😉
If you have the option (meaning, not pre-packaged), make sure to grab asparagus spears that are as uniform as possible when it comes to thickness. The thinner the spears, the better. Thin spears generally fit this recipe's bill better in terms of flavor, but either will work, of course. On another note, some grocery stores will also already sell asparagus in trimmed form. If today is one of those "crunch time"-days, you may want to consider opting for those ;).
Tomatoes: I'd highly recommend using smaller, firmer tomatoes, such as cherry tomatoes. Not only will they make your dish visually more appealing, but they will also prevent a pool of liquid from forming at the bottom. Smaller tomatoes equal less water content. Of course, you are more than welcome to use "regular" tomatoes, just keep the above water-content reference in mind when using those.
Scallions/Green onions (or spring onions): The scallions add a slight pungency to this salad without becoming overpowering in taste. In this specific case, I would advise against the use of "regular" onions, simply because their flavor would be a bit too intense and harsh for this dish. Feel free to use up to ½ bag/bunch (7-8 stalks) or even more for the salad. You just go right ahead and measure that "stuff" with your heart. 😉
Fresh Mozzarella: Fresh mozzarella's soft texture not only balances out its rather crunchy "co-inhabitants", but also adds a powerful punch to our dish's Italian and Mediterranean flavor profile. Alternatively, you may also use feta cheese (totally different flavor-wise but also mighty delicious).
Pine nuts: Roasted pine nuts are literally the "icing on the cake" for this salad. Simply sprinkle them generously over your salad mix and enjoy! On the other hand, you could also use walnuts (no need for roasting, just crumble them up and sprinkle over your salad).
Please see the recipe card further down the page for exact quantities of each ingredient.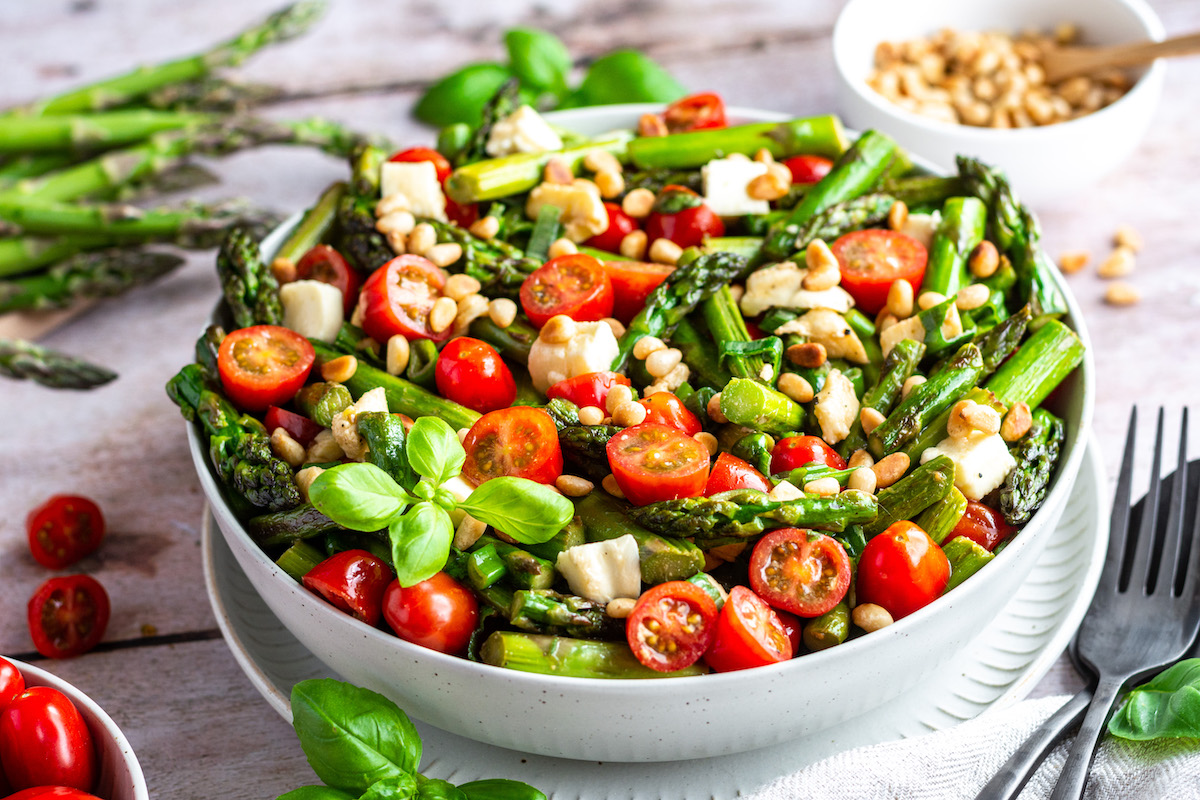 Instructions
You will have this asparagus salad with tomatoes and mozzarella prepared in no time at all. You'll love how easy and quick it is! With all our busy day-to-day lives, don't you just love being able to pull out an easy-peasy recipe, save time and, in the process, focus on other checklist items?? I know I am!  Also, you do know what they say about us Germans, right? Efficiency, efficiency, efficiency! 😉
Are there any steps within this recipe that are unclear to you? Don't despair. I'm here to help. You didn't really think I'd just leave you hanging like this now, did you? 😉
Here is some more detailed information and tons of additional prep tips to make things even easier while creating this dish. You may also find the summarized recipe including a printable version thereof in the recipe card below.
Step 1
Let's get started on our green asparagus.
Thoroughly wash the asparagus and trim off the woody, fibrous ends of each stalk. If you were only able to "score" thicker asparagus, feel free to peel the outer layer of each spear. Continue by trimming the asparagus into smaller bite-sized 1" pieces. More practical as well, not having to chow down on what might feel like, tree-like chunks. Probably wouldn't be a pretty sight for others watching, either. Even though, on the other hand, serving longer pieces might be visually more appealing. If you'd like my advice (not that you asked), I'd say decide on a case-to-case basis.
If you're having a first date, picnic-style, go with the bite-sized version. We are trying to impress, right?
If you're hanging with the kiddos or your bestie, have at it, and let the "chowing" begin. No need to impress either, am I right? 😉
In a large, preferably non-stick, skillet or frying pan, heat olive oil over medium heat. Now, add the asparagus to the pan, reduce heat, and let the asparagus cook until fork tender, approximately 10 minutes.
The green asparagus should be tender but still have a bit of a bite at the end! Ultimately, it will always come down to personal preference. If you wish, feel free to let the asparagus simmer until it's crisped up to your liking. As always, your kitchen, your rules! 😉
NOTE: Please note that I deliberately chose to be quite generous with the usage of olive oil. Mainly to make sure the asparagus is cooked all the way through but doesn't get burnt in the process. No worries though, we'll balance it back out by cutting back on olive oil when preparing our dressing.
Step 2
While sautéing your asparagus, might as well get started on your pine nuts.
Using a non-stick skillet (no fat added), slowly, very slowly roast the pine nuts over low to medium heat. Stir frequently and keep a watchful eye on them. Pine nuts burn quite easily, so trust me when I say, do not leave this pan unattended. You may be using a non-stick pan, but they can and will stick if you don't keep up with them. 😉 Personal experience.
Once done roasting, set aside until completely cooled. Take them out of the pan though, they can still burn just sitting in the skillet. Maybe this will help you understand why I am so adamant about this whole roasting pine nuts process…simply picture a toddler who just mastered the art of walking. Never, ever, leave them alone. Lol. You're welcome.
Step 3
How about a dare? Well, more of a challenge than a dare. IMPORTANT: It's very important here that you keep safety as the top priority, so be honest with yourself! Are you brave enough to juggle another task while the asparagus and pine nuts are "hanging out" in the pan (you do have to still tend to both for obvious reasons, of course)?
If the answer to this question is YES, then please skip to the next paragraph!
If the answer is NO (and there is absolutely no shame in this), then make sure you've checked off steps 1 and 2 first before continuing with step 3.
Again, no shaming intended here, we all have our strengths and weaknesses. Work with what you got. I'd just rather you NOT burn down the house. 😉
Rinse and drain the cherry tomatoes and cut them into halves. If you are working with larger tomatoes, just cut them into smaller bite-sized pieces, or however you prefer them. Next, remove the fresh mozzarella from its packaging, drain, and cut it into bite-sized chunks. Or save some time by grabbing the "Bocconcini" mozzarella at the store, which pretty much already comes bite-sized and is ready to go.
Thoroughly wash your scallions/green onions and cut them into small chunks or rings. If you are dealing with larger-sized scallions, further cut the rings into halves. That should do it!
Then, finely chop your basil or simply tear it by hand into small pieces.
Step 4
For the dressing, combine olive oil, balsamic vinegar, lemon juice (preferably freshly squeezed), honey, water, salt, and black pepper in a container. Mix well by using a fork or a little whisk and make sure your honey has dissolved well.
Step 5
Last but not least, toss all the ingredients into a large bowl, give it a good stir, and your salad is ready to go!
Make sure that your asparagus has cooled off just a bit. It's fine to be lukewarm, but it most definitely shouldn't resemble a steamboat. 😉 (The salad is being served cold.)
The pine nuts can either be mixed directly into your salad or generously sprinkled over your mixture right before serving. Opting for the latter will most likely provide a better crunch, but again, that's your call! 😉
Finally, season to taste with salt and black pepper, and your mighty delicious new creation is all set to enter the stage!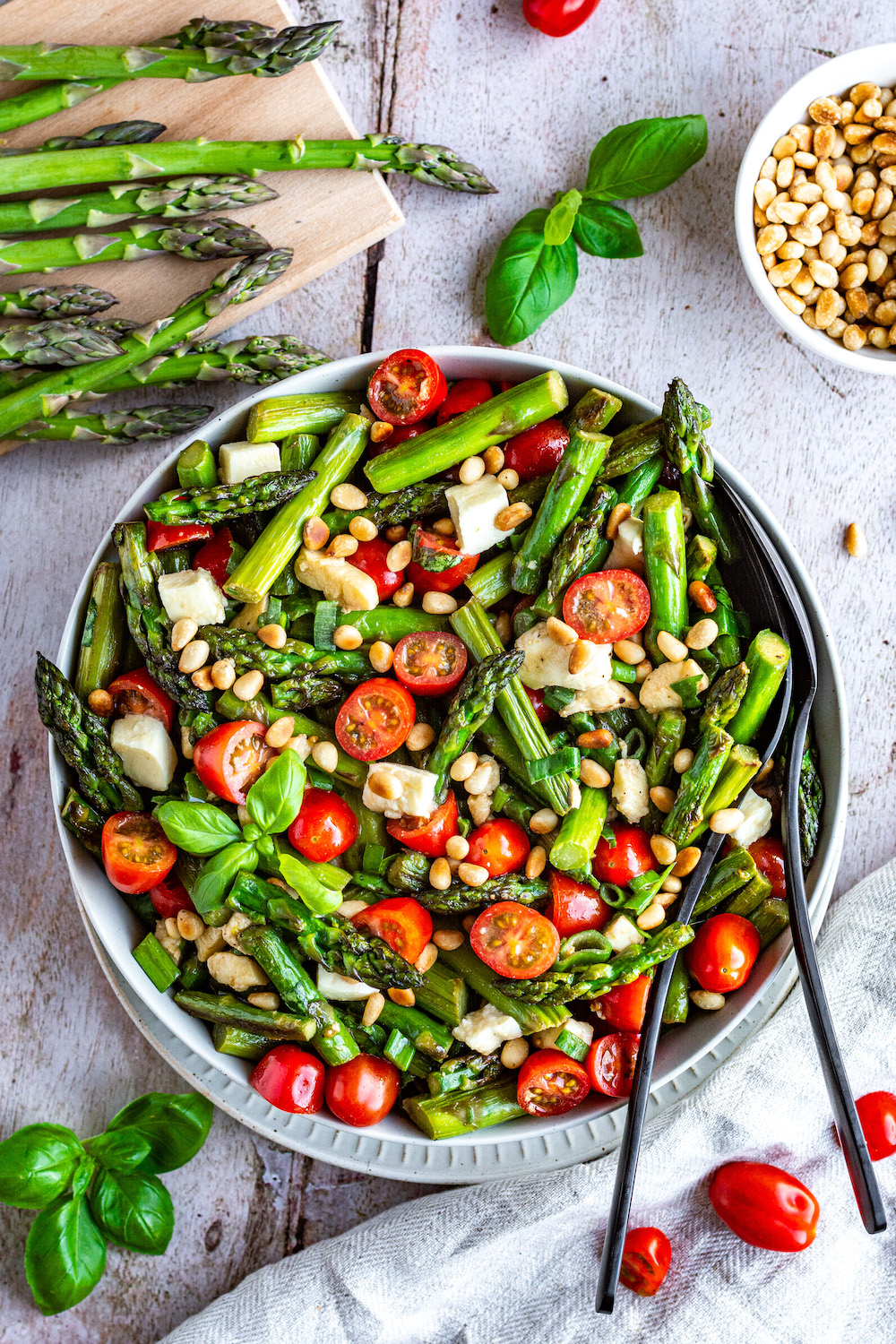 Variations
I've deliberately kept this caprese asparagus salad very simple. However, there is always room to add more (or less) or adjust to one's own special taste buds. Here are just a few ideas:
Avocado: Avocados would be a great addition to this salad. It'll add its own unique and very distinctive taste.
Arugula: The asparagus salad would also most certainly benefit from adding some arugula. A bit peppery and a bit nutty. What's not to like?
Feta: Opt for feta cheese instead of mozzarella. If you take this route, then you could also replace the balsamic vinegar with white balsamic vinegar, just to fit the color palette better. 😉
Garlic: Looking for a more intense flavor and not planning on going out on a date anytime soon? Add in some (or lots of) garlic. Either toss the garlic in with the asparagus while being roasted (asparagus will take on a more intense flavor) or add a minced garlic clove to your dressing.
Main course / Entrée: Any interest in turning this delectable dish into a main course?  How about adding some pasta, quinoa, or couscous? The world is your oyster!
Storage
This delightful roasted green asparagus salad with tomatoes is best enjoyed freshly prepared or after only having "rested" for a little while.
Ideally, prepare this dish as close to the intended "feeding frenzy" as possible if you're planning on serving it at a cookout later that day. No more than 1-2 hours before.
Furthermore, extended storage won't do your salad any good. It'll lose some of its consistency, and the asparagus especially will lose its crunch. So, say it with me, "I will prepare this salad as close to chowtime as possible". Good, now that's settled ;).
Leftovers, however, may still be stored in the fridge for up to 2 days. 😉
If you are preparing the salad ahead of time, then definitely set pine nuts aside after roasting, and don't add them to the salad until just before serving.
Related
Looking for other healthy salad recipes? Try these:
Recipe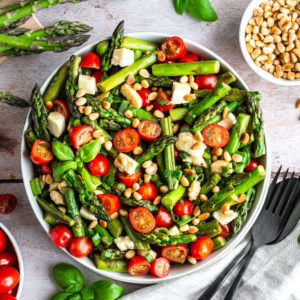 Asparagus Caprese Salad
Simple but delicious salad with green asparagus, cherry tomatoes, fresh mozzarella, and pine nuts. The perfect side dish or even main course to ring in the start of asparagus season.
Print
Pin
Rate
Ingredients
Salad
1

lb

green asparagus

2

tbsp

olive oil

1 ½

cups

cherry tomatoes

4-5

oz

fresh mozzarella

7-8

scallions

¼

cup

pine nuts

fresh basil
Dressing
1

tbsp

olive oil

1

tsp

balsamic vinegar

1

tsp

lemon juice

1

tsp

honey

3

tbsp

water

salt, black pepper
Instructions
Thoroughly wash the green asparagus and trim off the woody, fibrous ends of each stalk. HHeat olive oil, add the asparagus and slowly roast over medium heat (approx. 10 minutes). Asparagus should be tender but still have a bit of bite at the end!

Using a non-stick skillet (no fat added), slowly, very slowly roast the pine nuts over low to medium heat.

While roasting the asparagus and pine nuts, go ahead and prepare the rest of your ingredients:

Rinse and drain the cherry tomatoes and cut them into halves. Cut fresh mozzarella into bite-sized chunks. Thoroughly wash your scallions/green onions and cut them into small chunks or rings. Chop your basil or tear by hand into small pieces.

Create dressing by mixing remaining ingredients and blending well.

To finish, combine all ingredients in a bowl (asparagus should be cooled off but may still be lukewarm) and season to taste with salt and black pepper.
Notes
Best enjoyed when freshly prepared or after having "rested" only for a little while. 
You may add the roasted pine nuts just shortly before serving instead of mixing them in when assembling your salad. Makes for a better crunch!
Nutrition
Did you make this recipe?
Please leave a rating and a comment below - I'd really appreciate that - thanks!