This risoni salad tastes wonderfully Mediterranean and of summer, and is quickly and easily prepared! All you will need are tomatoes, arugula, and fresh mozzarella to create this delightful orzo salad that will leave you craving for more! Serve as a side dish for your next highly anticipated cookout, or even as a lighter main course on a hot summer's day!  
Jump to:
Mediterranean Pasta Salad
Traveling to Italy might not be in the cards for you this year, but that doesn't mean we can't bring a little Italy into our homes and especially kitchens, right? 
Have you had orzo before? Confession time ;). Since honesty is the basis of any relationship, whether on- or offline, I am here to own my "short-comings" by admitting to the fact that we have just recently discovered our love for this small rice-shaped pasta (also referred to as risoni or its Greek counterpart kritharaki). You may now color us converted to lifelong risoni fans!
As they say, better late than never ;). I truly hope you'll join our fan club soon!
The below recipe incorporates risoni in a very simple yet incredibly scrumptious way. Introducing a Mediterranean pasta salad brimming with delectable combinations that will result in a delightful flavor explosion!
A combination of fresh and sun-dried tomatoes (preserved in oil), fresh mozzarella, and arugula create the delicious base for our dish, topped off with our tasty dressing. Adding garlic and pine nuts will round out the dish and give it that special something!
Whether you are going for an entrée or a side for a barbecue, the Mediterranean risoni salad is most certainly a winner! What makes it even better is the quick and easy preparation.
Side note – if you've been smacking your lips while reading this, then I believe it's time to give it a try. 😉
Here are some additional tips and suggestions for all the ingredients needed. Please note, that you will find the recipe at the very bottom of the page. Let's get started! 😉
Ingredients
Just a few more tips and other helpful information with regard to the ingredients in question for the orzo pasta salad: 
Orzo: The rice-shaped pasta, also known as risoni or kritharaki (Greek counterpart), is made from durum wheat. Although they resemble large grains of rice, they are classified as pasta and are prepared accordingly.
Tomatoes: I would recommend using smaller tomatoes, such as cherry tomatoes. Not only are they visually more pleasing, but also have a more intense flavor. Of course, you are more than welcome to use "regular" tomatoes, just keep in mind that they have a higher water content and might add some unwanted sogginess.
Arugula: Depending on which store you frequent, you will most likely find arugula at 5 oz (or 142 g) per package. This, of course, will differ from store to store. I am being mighty generous by adding 3.5 oz to the salad, but that's just personal preference ;). 
Sun-dried tomatoes: The sun-dried tomatoes preserved in oil infuse the salad with a lovely Mediterranean flavor, while simultaneously adding an especially pleasant note to the dressing. Feel free to use any marinated sun-dried tomatoes of your choice. While I have picked the "in oil" version, you might be inclined to go for another, such as "with herbs". Just remember that whichever marinated version of tomatoes you roll with, it'll add a more intense flavor of said selected note to your dish. 😉
See recipe card for quantities.
Instructions
As an Italian pasta salad, the vegetarian orzo or risoni salad is quite simple to prepare.
Please find below the more detailed and comprehensive instructions, including many helpful tips for creating this beautiful dish. You may also find the summarized recipe by clicking on "jump to recipe" or scrolling to the very bottom of the page.
Step 1: Cook the pasta as per package instructions. As you would with regular pasta, add risoni to boiling, salted water, and cook for about 10 minutes. Don't be stingy with the salt, either. Italians typically say that pasta water should taste like the ocean. 😉  
Drain pasta and allow for cooling. Tip: Evenly spread out the cooked pasta on a large plate or tray. Doing this will speed up the cooling process.
In the meantime (while the pasta is cooking and cooling), you might as well get a head start on prepping the rest of your ingredients. It will cut down your overall time spent in the kitchen, and all that remains to do at the end is to mix all the ingredients together. No time to waste these days, right?  
---
Step 2: Grab your favorite non-stick pan and slowly, very slowly roast the pine nuts. Do not leave your pan unattended! I am speaking from personal experience ;). This process can go sideways quite fast, so make sure to keep a close and keen eye on them and stir constantly. They burn easily, and they are way too pricey to end up in the trash due to severe burns ;).  
Once roasted, set aside until completely cooled.
---
Step 3: Rinse and drain cherry tomatoes and cut them into halves. If you're working with larger tomatoes, you may also just cut them into smaller bite-sized pieces, or however you prefer them. Next, take the sun-dried tomatoes out of the jar and let them slightly drain as well (allowing for some oil/marinade to adhere to them). Depending on the size of the sun-dried tomatoes, you may also cut them into smaller pieces. Again, totally at the chef's discretion ;). 
Remove fresh mozzarella from its packaging, drain, and cut into bite-sized chunks. OR, if you are really aiming for cutting down any small amount of time in the kitchen, you could also just grab and buy the so-called "Bocconcini" (fresh mozzarella) at the store. Cutting out the "middleman" ….no further cheese slicing is needed as these already come bite-sized and are ready to go. Talk about being efficient ;). Rinse and drain your arugula using a strainer. After that, depending on size, cut arugula into smaller pieces. Finely chop your basil or simply tear it by hand into small pieces.
---
Step 4: In a container, combine olive oil, the oil from the sun-dried tomatoes, vinegar, water, and honey. Mince garlic by using a press or very finely chop it with a knife, then add to the container as well. Mix well by using a fork or a spoon and if you happen to be working with any airtight container (mason jar, salad dressing jar, etc.), simply screw on lid and shake well.  
---
Step 5: Have a large bowl ready and add your ingredients, one by one: the cooled risoni pasta, the tomatoes, the arugula, the fresh mozzarella, and, last but not least, your basil. Season well and to taste with salt and pepper. Drizzle your previously prepared and mighty delicious salad dressing over the mixture and combine well.  
---
Step 6: The Mediterranean salad will have reached its flavor peak if you let it "rest" for just a bit to allow for the dressing to do its magic and become one with the rest of the ingredients. Once ready to serve, add the roasted (not burnt) pine nuts ;). Enjoy! 
You may add the pine nuts earlier, but that might soften them up a bit. If you prefer a crunch, then I'd highly recommend adding them right before serving.
Variations
Here are just a few ideas for you when it comes to substitutions and general variations. Simply make this beautiful pasta salad your own: 
Opt for feta cheese instead of mozzarella. 
Olives would also make a great addition to this salad. Maybe even some red onions (I love red onions!) to give your dish's flavor intensity another boost?  
Omit garlic if you don't fancy the taste (or don't believe in vampires). Keep in mind that sometimes the oil (used to marinate sun-dried tomatoes) already contains garlic. Just double-check the label if you'd like to steer clear of any garlicky notes. Then again, if you DO believe in vampires and can't get enough garlic, double up on the cloves and take two instead of just one.  What's the harm, right? 
Use roasted walnuts or cashews instead of pine nuts and sprinkle over salad.  
Choosing a vegan version of this salad, simply replace the fresh mozzarella with any substitution of your choice or counterbalance by adding a few more nuts. You may also easily replace this recipe's honey with either agave or maple syrup.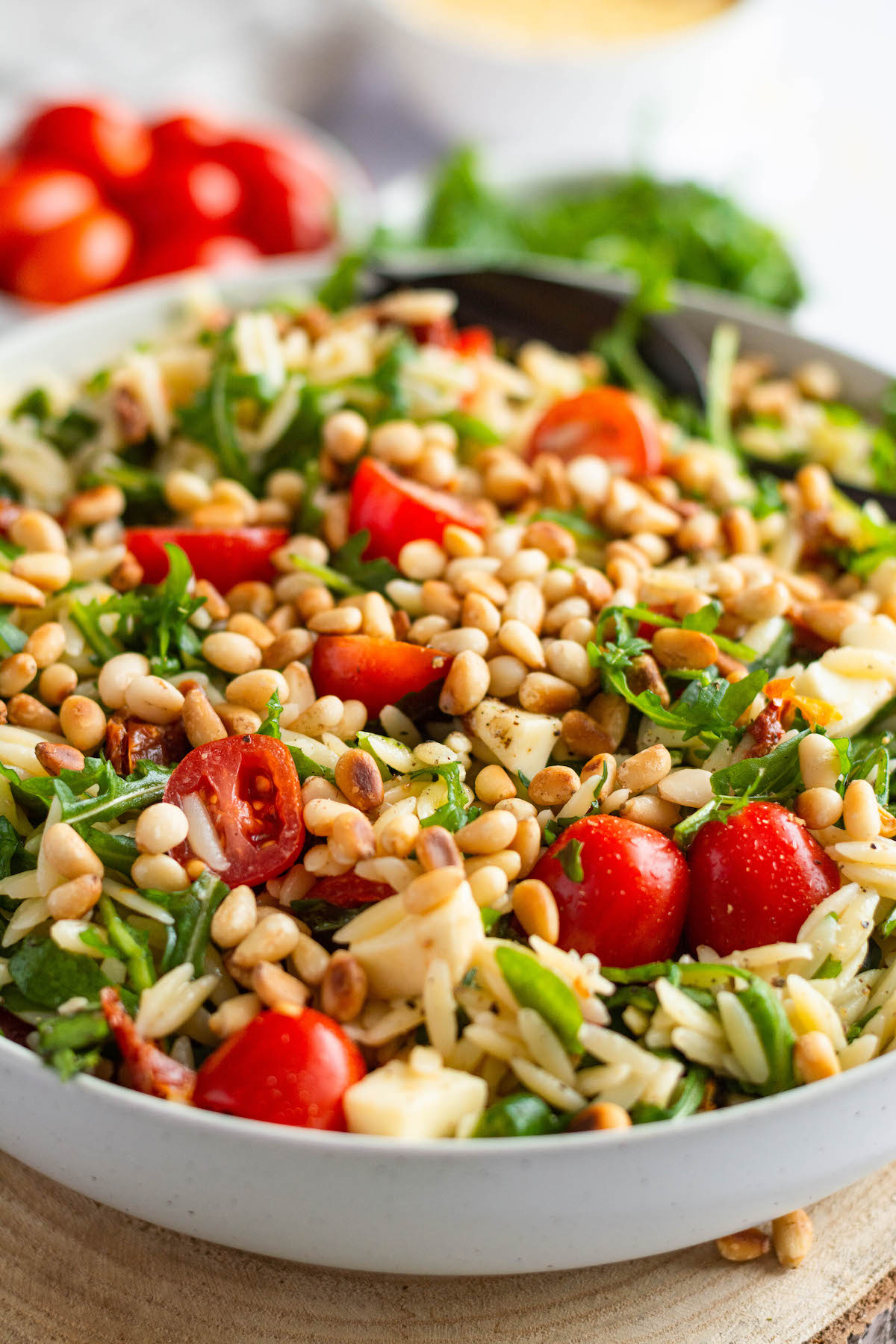 Perfect Pairings
This delicious salad was created to stand on its own as a main course or entrée. No need for sidekicks! It quite simply is the perfect dish on a hot summer's day. Due to its quick and easy setup, it is also meal prep friendly and will facilitate organizing your work week, in or out of the home! Making life easier, and tastier along the way.
Having said that, of course, this salad works just as well as a side dish! The perfect addition to any cookout or buffet-style social gathering. Serve it with your favorite baked fish or roasted meat, maybe even some baked feta, and you might just feel like you're dining on the coast of Italy! 
FAQ
Can I use other types of pasta? 
Of course, you can! You may use any pasta to create this delicious Italian salad. Penne or Fusilli pasta would work especially well, too.  
Can I prepare the salad ahead of time/the night before? 
Yes, absolutely! This might even work out in your favor, or the salad's flavor ;). Allowing all the ingredients and aromatics to fully disperse and absorb simultaneously will make this explosion of flavors a home run. Either prepare it several hours ahead of time for a cookout later that day or as part of your meal prep solution the night before. You can't lose! 
How long can the salad be stored?
Stored in the fridge in an airtight container, and it'll last for up to 2 days. 
Related
Looking for other salad recipes? Try these:
Recipe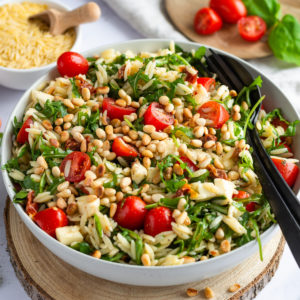 Mediterranean Risoni Salad (Orzo-Salad)
Italian-inspired risoni salad (orzo salad) with tomatoes, sun-dried tomatoes, arugula, fresh mozzarella, and pine nuts. 
Print
Pin
Rate
Ingredients
Salad
1.5

cups

risoni

also: orzo, kritharaki

1.5

cups

cherry tomatoes

1.5

oz

sun-dried tomatoes

in oil

9

oz

fresh mozzarella

3.5

oz

arugula

basil

0.5

cups

pine nuts

salt, black pepper
Dressing
2

tbsp

olive oil

3

tbsp

oil from sun-dries tomatoes

1

tsp

balsamic vinegar

1

tsp

honey

2

tbsp

water

1

garlic clove
Instructions
Cook pasta as per package instructions and set aside to allow for cooling.

In the meantime, prepare the rest of your ingredients for further processing: 

Carefully roast pine nuts and set aside until completely cooled.

Rinse cherry tomatoes and cut into halves. Sightly drain sun-dried tomatoes and dice into small pieces. Cut fresh mozzarella into bite-sized pieces as well. Rinse and clean arugula and, if necessary, chop into smaller pieces. Tear basil by hand into small pieces.

Using a container, combine oil, vinegar, water, and honey. Mince garlic, add to container, and mix all ingredients well.

Add cooled pasta and remaining ingredients (except for pine nuts) to a large bowl, and season well with salt and pepper. Drizzle dressing over mixture and combine well.

After that, sprinkle pine nuts over your dish.

Let salad marinate for a bit to allow flavors to fully develop before serving.
Notes
All serving sizes listed
herein
are
entrée
portions.
Used a
s a side dish, th
e
recipe will yield more servings
.
Please see
my
blog post for
additional
tips on individual ingredients,
further
ideas,
and
suggestions
as well as
frequently
asked questions
. 
Nutrition
Did you make this recipe?
Please leave a rating and a comment below - I'd really appreciate that - thanks!