These heavenly silky overnight oats with Greek yogurt, coconut flakes, and blueberries are wonderfully refreshing and a burst of flavors. Easily prepared the night before, refrigerate overnight, et voilà…. you wake up the following morning to a mighty delicious and healthy breakfast. You'll be ready to tackle your day! 😉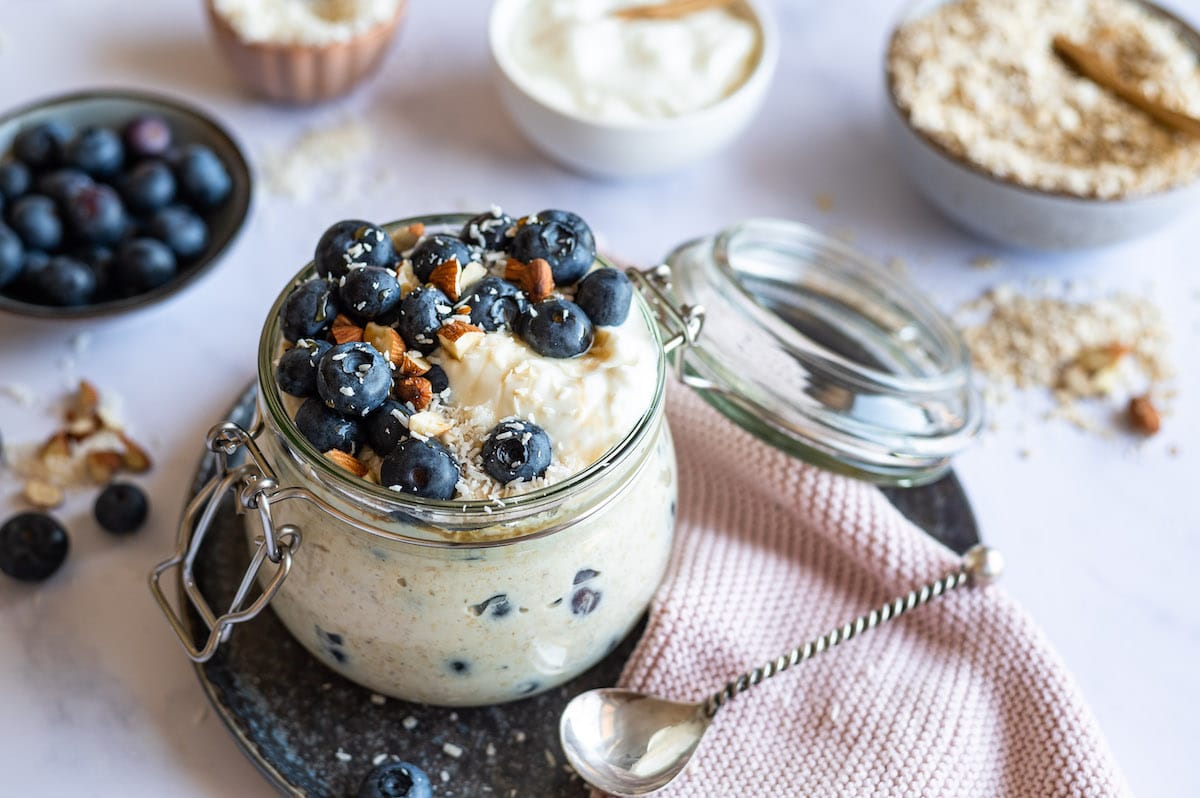 Jump to:
Here's what makes my overnight oats so special
Quick and easy: It'll take you less than 5 minutes to whip this one up. No fancy ingredients are required, only simple everyday pantry items.
Full of flavor: With its amazingly creamy texture, these flavors provide an incredible taste and a refreshing experience.
Nutritious: Loaded with beneficial nutrients, e.g., high in protein and high in fiber. The ideal breakfast for a great start to your day. Breakfast is, after all, the most important meal of the day! 😉
Ingredients
Only a few simple ingredients are required to create this flavorful "bowl of goodness":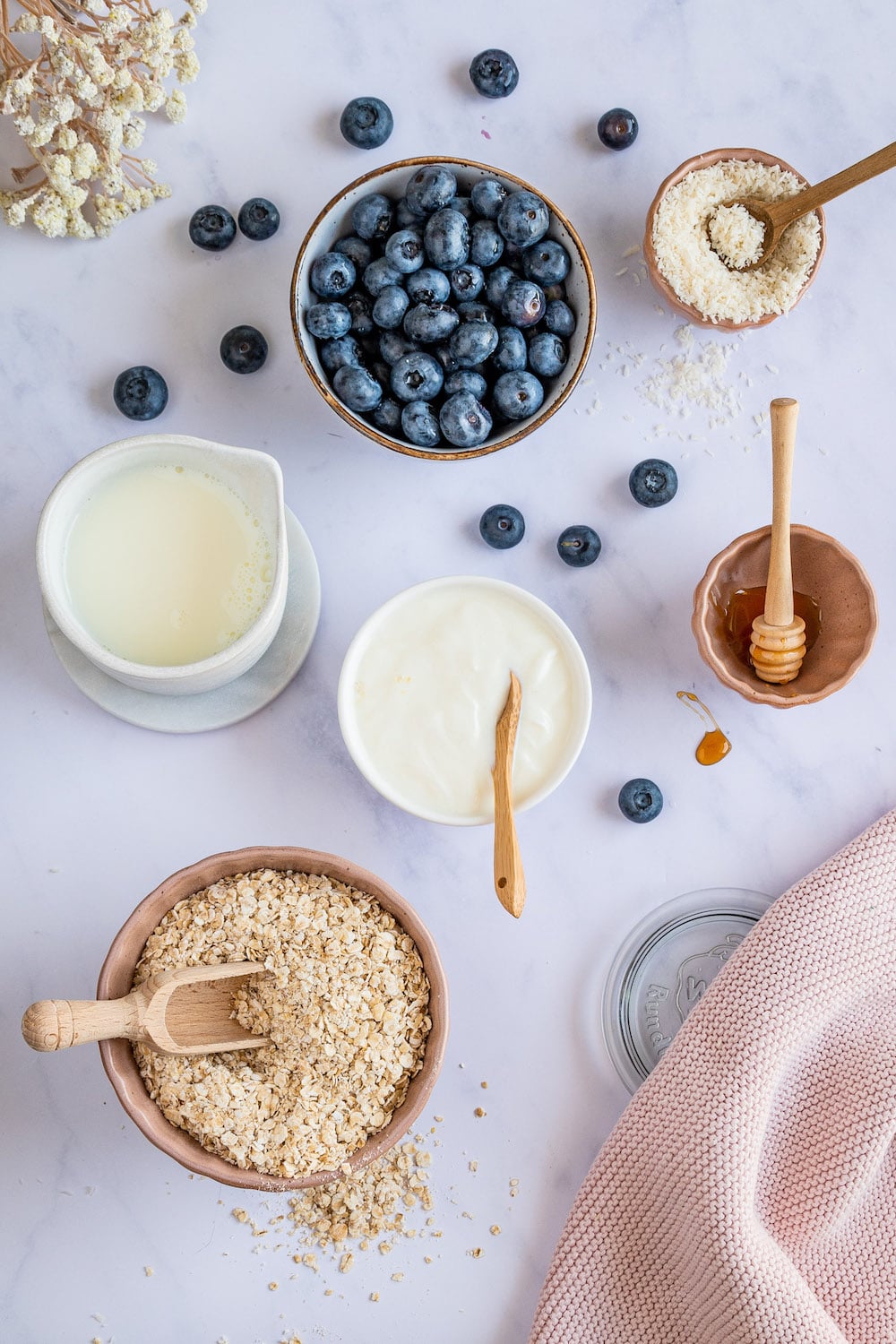 Rolled oats: This is the base ingredient for our overnight oats. They are rich in fiber and will also help keep that tummy fuller for longer while simultaneously being gentle on your digestive system. Rolled oats or old fashioned oats will work perfectly for this dish. Quick oats would work just as well, but I'd veto steel cut oats, as those would take too long to soften up. 
Greek yogurt: This ingredient will provide our dish with its lovely creaminess. The milkfat percentage is totally your call. Whatever floats your boat.
Milk: The same applies as above. The choice of 1%, 2%, or whole milk is entirely up to you.
Coconut flakes: Adding unsweetened coconut flakes (or shredded) will give our dish a nice summery flavor and make you feel like you're somewhere at the beach…. far, far away. For a quick second at least…until you open your eyes again. 😉
Honey: My first attempt at this recipe was without any honey at all, which led to me having to sweeten it up afterward. Feel free to omit the honey, use a bit more than my recipe indicates, or use an alternative altogether. That 100% depends on whether you fall into that "sweet tooth" category (like me). Use as little or as much as your sweet (or "salty") little heart desires. No judgment here. LOL
Blueberries: Who doesn't love blueberries? I know I do. Make sure to evenly distribute them throughout your dish. Just to make sure you're getting a piece of that "addictive" goodness with each and every bite. Obviously, you can follow the recipe to a T, but you may also add a few more blueberries. Maybe leave a few for later decorative purposes as well. 
Let's get started!
Instructions
This is as easy as 1, 2, 3…. Just wait and see. 😉
Step 1
In a bowl, combine oats, milk, yogurt, coconut flakes, and honey and incorporate well. Mixing the yogurt thoroughly with all the other ingredients is crucial; along with making sure the honey (or whichever alternative you have chosen) has fully "dissolved".
Step 2
Place the berries in a colander and dip them into a bowl of cold water. Gently swish in the water and then allow the blueberries to drain. Spread them out in a single layer and delicately pat dry with a paper towel, or simply set aside for a bit to allow for further drying. Carefully fold the blueberries into your oat mix.
Don't hesitate to add more berries if you feel there aren't enough. You can use a few of them to decorate your dish once it's done as well.  
Step 3
Now, "pour" your mix into an airtight container. Mason jars with a clamp lid or screw top lid would work best in this case. However, pretty much any container with a lid will do if none of these are available.
Place your container in the fridge overnight, or at least for a couple of hours. Take your delicious breakfast out of the fridge the next morning and get ready for a boost of energy to start your day!
If you wish, feel free to add some garnish to your dish by topping it off with some more blueberries, chopped nuts, nut butter, or coconut flakes….
Related
Looking for other healthy breakfast recipes like this? Try these:
Recipe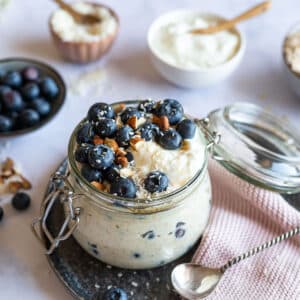 Blueberry Overnight Oats with Yogurt
Deliciously creamy breakfast made of rolled oats, Greek yogurt, shredded coconut, and blueberries. Prepared the night before and let rest in the refrigerator overnight.
Print
Pin
Rate
Ingredients
½

cup

rolled oats

½

cup

milk

¼

cup

Greek yogurt

2

tbsp

shredded unsweetened coconut

or coconut flakes

1

tsp

honey

1/3

cup

blueberries
Instructions
Thoroughly mix rolled oats, milk, Greek yogurt, shredded coconut, and honey.

Wash blueberries and fold them in with the rest of the ingredients.

Transfer to a suitable container (screw top or clamp lid) and leave to set overnight in the refrigerator.
Notes
You may
measure your
honey (or whichever sweetener
of your choice
) as per personal preference.
Nutrition
Did you make this recipe?
Please leave a rating and a comment below - I'd really appreciate that - thanks!