This curried rice salad with pineapple is a quick and easy dish that's bursting with flavor. With just a few simple ingredients and a light yogurt dressing, this dish is perfect for your next cookout or as a cold entrée. Plus, its fruity and exotic taste will have you coming back for seconds in no time!
Do you love pineapple? Well, so do I. I know there's an ongoing, heated debate about whether pineapple on pizza should be "legally banned" (metaphorically speaking, of course). But that's neither here nor there. 😉
This is about rice. And pineapple. These two will forever remain a match made in heaven.
You will absolutely fall in love with this easy-to-prepare rice salad with curry, pineapple, red bell peppers, and corn, and will have everyone grabbing seconds for sure. It is delightfully fruity and incredibly tasty. Perfect as a vegetarian side dish for your next cookout or even a cold entrée. Its quick and easy preparation will have you in and out of the kitchen in no time, never to miss another "cliffhanger" ever again. 😉
Looking for more healthy salad with fruity components? Also try this light raspberry walnut salad or this refreshing mango quinoa salad.
Jump to:
---
Why you'll love this rice salad dish
Only a few and easy to obtain ingredients along with a quick and easy preparation.
A mouthwatering combination of flavors for an especially exotic and fruity taste experience.
Light yogurt dressing (no mayo).
Ideal as a side salad for your next barbecue or as a cold entrée.
Vegetarian and healthy.
---
Ingredients
You will only require a few simple ingredients to create this cold curried rice salad. Find further tips and other helpful information right here:
Rice: Basmati rice works best for this salad due to its texture and taste. A perfect complement to the salad's fruity flavor palette. Simply put, basmati rice fits the "bill" and is also carried by most grocery stores. Of course, you are more than welcome to use any other type of rice. For instance, jasmine rice will result in a somewhat mushier salad, which some might even prefer. But, for best results, stick with basmati rice. Also, I'd really regret having to tell you further down the road, "I told you so." 😉
Red Bell Peppers: Besides being a literal vitamin C bomb, adding a bell pepper to this salad will also throw in a little crunch. If you prefer yellow or green bell peppers, go ahead, and add either one of those. However, if you are a gourmet aiming to create a feast for the eyes as well, then grab a red one. 😉
Pineapple: Canned pineapple gives this salad its typical fruity and mighty delicious taste. I would suggest using pineapple in 100% pineapple juice, which can be found in pretty much any store. It really doesn't matter if you grab chunks of pineapple, crushed, or sliced. If sizing needs adjusting, you can always just chop them up to match your preference.
Corn: Canned corn in combination with pineapple gives this salad an especially tropical feel and taste. Please use whole-kernel sweet corn of whichever brand your store carries for this recipe. This is no place for creamed corn! That would take our recipe in a completely different direction.
Spring onions (or scallions): Lastly, tossing spring onions into the mix will give this salad a subtle heat kick. For a more intense flavor, opt to use "regular" onions instead. Although, you might be missing out on the nice touch of color by omitting spring onions. But as always, your kitchen your rules.
Topped off with a simple but extremely flavorful dressing made with yogurt (no mayo), oil, vinegar, and some of the canned pineapple juice you set aside earlier, et voilà, the delicious and simple curried rice salad is done!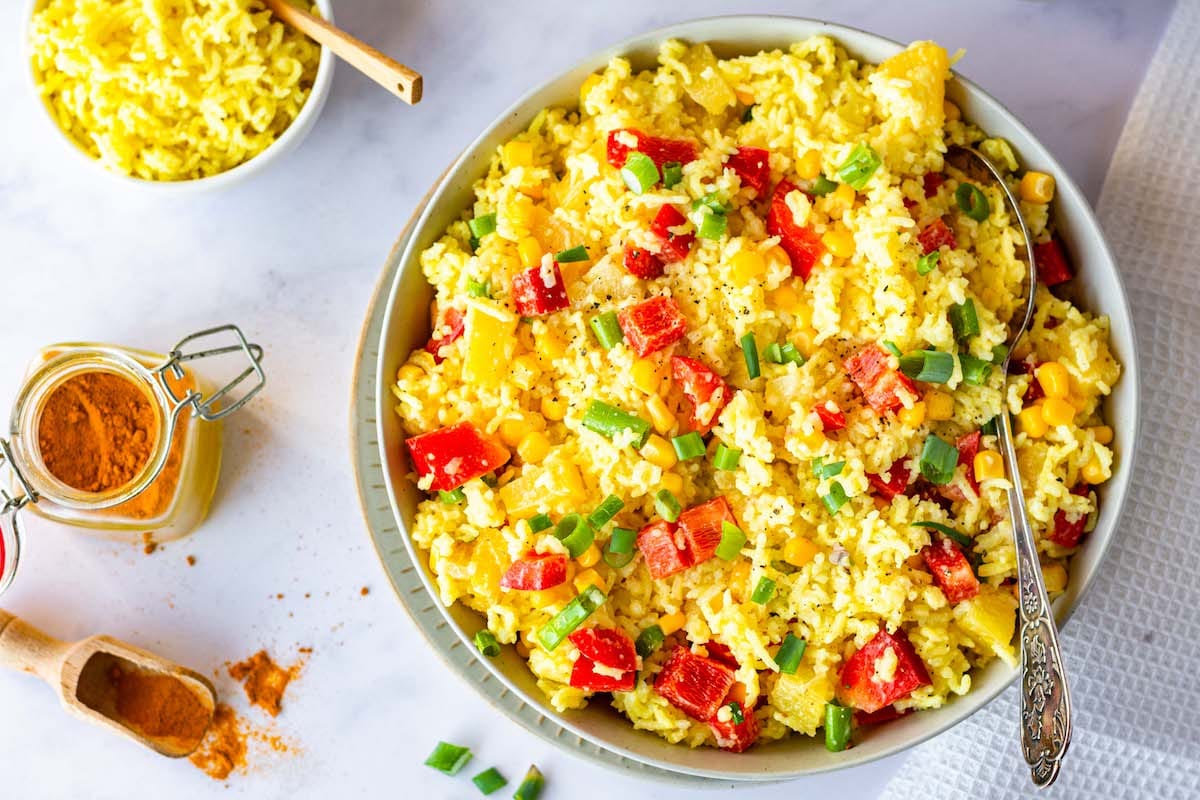 Instructions
The fruity curry rice salad is very easy to prepare. I've said it before, and I will say it again….my goal is to make recipes as easy and simple as possible. Time saved equals increased quality time. Please find below the more detailed and comprehensive instructions for creating this tasty dish. You may also find the summarized recipe in the recipe card further below.
Step 1
Let's get started on our rice. Cook the rice as per package instructions. Preferably, though, by applying the classical method on the stovetop using water. Cooking rice can be challenging, especially if you're not preparing it regularly. Have no fear, my friend! If in doubt, just add the rice along with salt, curry powder, and turmeric to approximately ½ gallon of water, bring it to a boil, then let it simmer for about 10-12 minutes. Drain it afterward and allow time for cooling as well.
If you prefer preparing your rice using the so-called absorption method, make sure to use a bit less of the spices indicated above. Just to keep your rice's flavor intensity at bay. 😉
Additionally, if you are an enthusiast of rice cookers, you may also take advantage of that handy tool to prepare your rice. One can never have too many options. 😉 (Note: Same as with the absorption method, use less of the spices indicated.)
Tip: Evenly spread out your cooked rice on a large plate or tray. This will help speed up the cooling process.
Step 2
While cooking the rice and setting it aside for cooling, you might as well get a head start on the remaining ingredients along with our delicious dressing. Efficiency is our goal here. 😉
Start by washing your red bell pepper, cutting it in half, removing the core and seeds, then continue chopping it into bite-sized chunks.
Next, drain the canned pineapple but make sure to set some of its juice aside for later use. We'll need some of that "sunshine" juice when preparing our dressing. If you opted for buying sliced pineapple (or if it's what you had in your pantry), go ahead and cut it into smaller bite-sized pieces.
Leaving the pineapple (slices) as is might save you time in the early stages of prepping this recipe, but it will most certainly slow you down trying to look semi-sophisticated and presentable when devouring our flavorful feast. 😉
Step 3
Open your canned corn and drain it well using a strainer. Now, thoroughly wash your spring onions, let them dry off, and cut them into small chunks or rings. Don't be stingy with the spring onions, either. The "more the merrier" applies in this case. Not only do they pair perfectly in terms of flavor, but also add such a beautiful splash of color to the dish. 😉
Step 4
Let's move on to the dressing. In a container (screw top) or salad dressing jar, combine yogurt, olive oil, water, white balsamic vinegar, and some pineapple juice. Season well with salt, black pepper, and paprika, close the lid and shake well.
If the dressing's consistency isn't quite to your liking or preference yet, go ahead and add some more liquid. Either some water or pineapple juice. Totally up to you! You could also just wait until you've mixed the dressing with the rice and make a call then! 😉
Step 5
Last but not least, let's combine all of our ingredients. Please note, that the rice doesn't have to be completely cooled off, warm to the touch would be perfectly fine.
Toss rice, bell peppers, pineapple, corn, and spring onions into a large bowl. Drizzle dressing over the mixture and then combine well. Do a quick taste test and if you're not performing a little wiggly happy dance yet (or is it just me?), I'd highly suggest seasoning your new creation a bit more until said "dance challenge" is fulfilled. 😉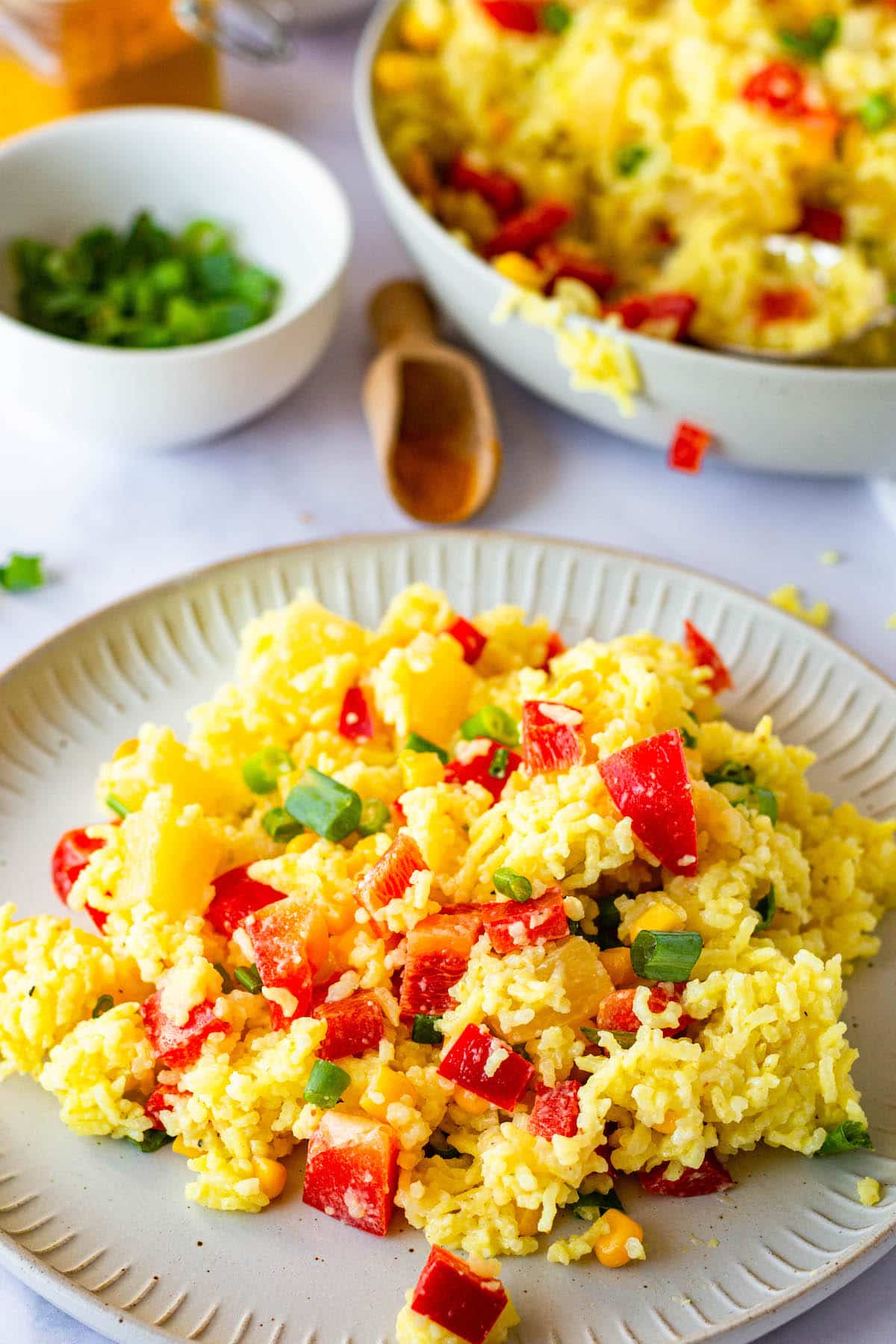 Perfect Pairings
This colorful and tasty rice salad is the perfect main course or entrée on a hot summer's day. In need of a little "cool-off"? Check! Need a little boost to push through the rest of the day? Check!
Its crisp fruitiness will be a welcome and wonderfully refreshing change and re-energize your senses. Now, if you are not necessarily looking for a vegetarian dish, feel free to add some roasted chicken breast or shrimp to take it to the next level. It can't hurt to add a bit of protein, can it? ;)
With its quick and easy setup, it is also extremely meal prep friendly, as you can easily throw everything together the day before. Making life just a tad bit easier and tastier along the way! 😉
Our vegetarian rice salad is the ideal addition to any barbecue. However, I'd recommend keeping an eye on the attending size of the barbecue party, as you may have to double up on the ingredients (this recipe yields 8 servings).
What it boils down to is that this mighty delicious curry rice salad will be a winner at any function, whether it'd be a buffet-style gathering, a picnic, a family reunion, or even your next New Year's party. You simply can't go wrong with having this dish tag along to your next outing. What have you got to lose? Exactly. Nothing! 😉
FAQ
Can I prepare the salad ahead of time/the night before? 
Yes! Absolutely! As with many of my recipes, allowing for all the ingredients and aromatics to fully disperse and develop will provide the richest flavors possible and simultaneously turn this salad into your gathering's centerpiece. Therefore, if you plan to attend a cookout in the afternoon/evening, go right ahead and prepare your salad earlier in the day.  
If in doubt, give it a little taste test and adjust if necessary. In my experience, though, any adjustments haven't been necessary thus far. But all taste buds aren't the same. So, you do you! 😉 
How long can the salad be stored? 
Stored in the fridge in an airtight container, it'll last up to 2 days. Most likely even longer than that. 
Can't I just mix the curry powder directly into the dressing? 
Unfortunately, that's not going to work. Aside from creating an unpleasant "sandy" texture, the curry flavor will most likely be overpowering. Adding the curry powder to the rice water will balance out the flavors perfectly while also providing the rice with its luscious, beautiful yellow color (along with the turmeric, of course).  
Related
Looking for other amazing salad recipes? Try these:
Recipe
Curried Rice Salad with Pineapple
A bright, colorful, and fruity salad with curry, pineapple, corn, and bell peppers.
Print
Pin
Rate
Ingredients
Rice
1 ¼

cup

basmati rice

1

tsp

curry powder

pinch of

turmeric
Salad
1

red bell pepper

10

oz

canned pineapple

100% pineapple juice

5

oz

whole-kernel golden sweet corn

Spring onions

or scallions
Dressing
⅓

cup

Greek yogurt 5%

2

tbsp

olive oil

2

tbsp

water

1

tsp

white balsamic vinegar

1

tbsp

pineapple juice

paprika

salt, black pepper
Instructions
Cook the rice as per package instructions. Add salt, curry powder, and turmeric to your water. Allow for cooling afterward. (Please note that quantities indicated in the above recipe are based on cooking the rice via stovetop method. If you decide to prepare your rice based on the absorption method or using a rice cooker, make sure to use less of the spices mentioned herein.)

Cut your red bell pepper into bite-sized chunks. Next, drain the canned pineapple, cut into bite-sized chunks as well, and save some of the pineapple juice for the dressing.

Drain corn with a strainer. Cut spring onions into small chunks or rings.

Combine ingredients for the dressing and mix well.

Toss all ingredients into a large bowl, add dressing, and mix well. Adjust seasoning to taste if necessary.
Notes
All serving sizes listed herein are entrée portions. When served as a side dish (e.g., cookout), the recipe will yield a greater number of servings.
Nutrition
Calories:
379
kcal
|
Carbohydrates:
66
g
|
Protein:
9
g
|
Fat:
7
g
|
Saturated Fat:
2
g
|
Fiber:
5
g
Did you make this recipe?
Please leave a rating and a comment below - I'd really appreciate that - thanks!