Let me introduce you to these delightfully rich and creamy pan-fried gnocchi with broccoli and mushrooms. This vegetarian and mighty delicious meal is quickly and easily prepared and ready to be served in under 25 minutes.
Ready-to-eat gnocchi is one of my favorite kitchen ingredients to grab at the store for quick and healthy dishes, as you'll have them prepared in no time at all. And since we can all benefit from timesavers in the kitchen, let's take this welcome advantage to heart to create our lovely creamy dinner after a hard day's work.
Jump to:
Ingredients
Only a few everyday ingredients are required to create our healthy pan-fried gnocchi with vegetables: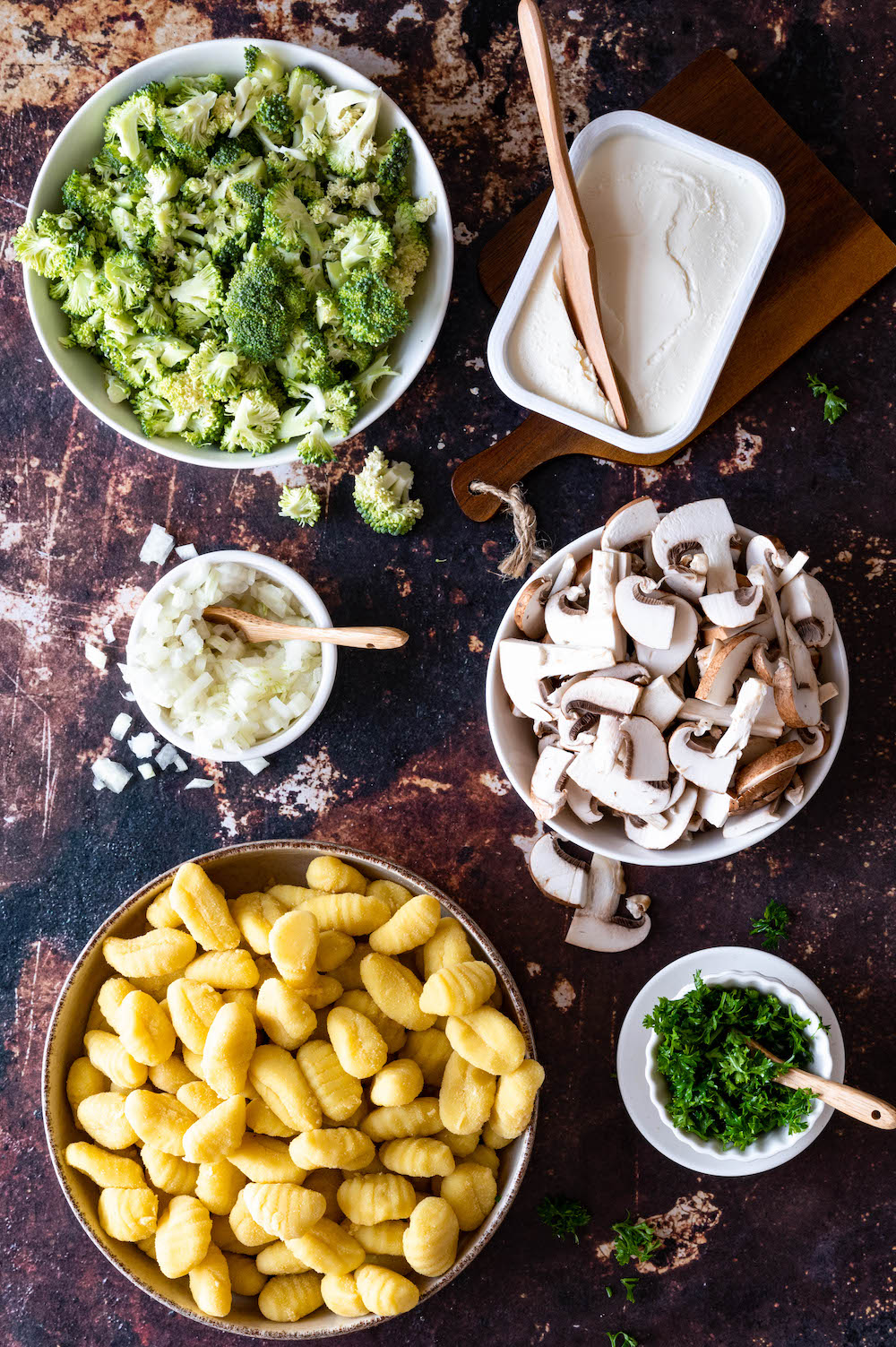 Gnocchi: Make sure to grab skillet gnocchi at the store. Most stores carry skillet gnocchi and regular ready-to-eat gnocchi; however, the latter is suitable for boiling only and not for pan-frying. The skillet gnocchi is typically found in the fridge or frozen section of your store. It's important to use skillet gnocchi, as these will crisp up when being fried and not become mushy like their "regular" counterpart. So, keep an eye on that and make sure to grab the skillet version.
Broccoli: Look for a beautiful, bright green head of broccoli that is as fresh as possible. We'll only require approximately 11 oz, so a small head would be preferable. Of course, if you're a lover of broccoli, have at it and add more if you happen to only be able to grab a bigger head. 😉
Mushrooms: Feel free to use whichever mushrooms float your boat. Whether you'll go with white mushrooms or maybe even baby bella mushrooms is absolutely your call.
Cream Cheese: You may use your choice of cream cheese, whether it's the original full-fat version or 1/3 less fat. The original will, of course, make your dish creamier due to its higher fat content and have a more intense flavor compared to using lower-fat versions. But again, your kitchen, your call.
Add onions, olive oil for frying, vegetable stock, salt, black pepper, and fresh parsley to round out the dish. If you like, you may also use some garlic; simply finely chop and sauté along with the onions.
Instructions
The gnocchi and broccoli recipe is incredibly easy in terms of preparation. Below, you will find more detailed information along with other helpful prep tips to create this mouthwatering meal. Further down, you may also find the summarized recipe along with a printable version thereof (recipe card).
Step 1
Let's get started on our broccoli. Remove the stalk, then proceed to trim off the florets. Continue to chop the individual florets into more bite-sized (non-caveman-style) chunks.
This will help with better distribution throughout your dish. I'd recommend keeping them smaller than the size of your gnocchi. Just my two cents. 😉 You'll thank me later.
Step 2
Now, peel your onion, cut it in half, and chop it finely.
Next up are the mushrooms. Under cold, running water, thoroughly clean them and remove the stems. Once that's done, slice them thinly.
Step 3
Heat olive oil in a large skillet or frying pan over medium heat. Place your gnocchi in the skillet and sear them briefly. Feel free to (quite literally) turn up the heat a little. While our gnocchi do not have to be fully cooked, they should be nicely colored (browned) and have a crisp bite to them.
Tip: I highly recommend using a larger skillet instead of a regular-sized frying pan, as these will provide more height to fit all of your delicious ingredients. If you do not have one on hand, either opt for preparing the dish to accommodate only two servings OR prep the gnocchi in a separate skillet first and then combine everything at the end.
Step 4
Reduce heat if necessary. Add your onions and mushrooms to the gnocchi, incorporate well, and continue to sauté for a little longer. Stir frequently.
Add a bit more olive oil if required.
Step 5
Now add your broccoli, cover all ingredients with the vegetable stock, increase the heat, and bring everything to a boil. Let simmer for about 5 minutes, or until the broccoli is noticeably softer.
Note that the broccoli doesn't have to be perfectly cooked yet, as our dish will continue to cook for a while longer. So, no worries there. It'll all come together in the end. Have faith in me ;).
Step 6
Add the cream cheese to your mix. As the cream cheese melts, you will be able to gradually blend it in with the other "roommates" and distribute it evenly.
Step 7
Season well with black pepper. Give your meal a little taste before adding any salt, as some veggie stocks already contain a good amount of salt. Once tasted, adjust to your liking.
Finely chop the parsley and fold this burst of freshness into your dish.
Step 8
You may now serve the pan-fried gnocchi with broccoli straight away or let everything simmer for a few minutes longer.
It depends entirely on how much liquid you want in your dish, how much bite you need in your broccoli, etc. You decide ;)!
Recipe Variations for Meat Lovers
No vegetarians joining for dinner tonight, and meat is your preferred choice of protein? Here are two additional ideas on how to alter the roasted gnocchi and broccoli dish:
How about (separately) pan-frying some chopped-up bacon or pancetta and adding it to your dish? If you do, I highly recommend not adding any salt until the bacon is incorporated and then tasting your dish before you add any more salt.
Ham would be another delightful choice of protein. Simply chop it into chunks or strips and add them to the gnocchi stir fry at the end to allow the ham to fully heat up throughout.
Both variations allow for easy adaption to accommodate either vegetarians or the meat lovers among us. With very little extra effort. You're welcome! 😉
Related
Looking for other healthy recipes like this? Try these:
Recipe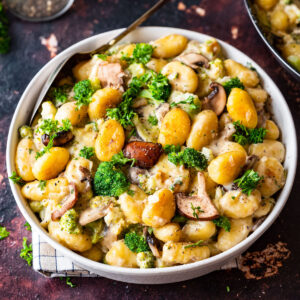 Pan-fried Gnocchi with Broccoli and Mushrooms
An easy and quick recipe with gnocchi, broccoli, mushrooms, and an amazing creamy sauce. 
Print
Pin
Rate
Ingredients
1

small head of broccoli

11 oz gross weight – should yield approx. 2 cups of broccoli florets

1

small onion

7

oz

mushrooms

3

tbsp

olive oil

28

oz

skillet gnocchi

5-6

oz

cream cheese

1 ¾

cup

vegetable stock

salt, black pepper

fresh parsley
Instructions
Remove the stalk from your broccoli and trim off florets. Continue to chop the florets into bite-sized chunks.

Peel the onion, cut in half, then chop finely. Now, thinly slice mushrooms.

Heat olive oil in a large skillet over medium heat, add gnocchi, and briefly sear until they are nicely browned.

Add onions and mushrooms, incorporate well, and sauté everything for a short while.

Add broccoli, cover everything with the vegetable stock, bring to a boil, and let simmer for about 5 minutes. Stir from time to time.

Mix in cream cheese and let it gradually melt, then distribute evenly.

Season well with salt and black pepper, finely chop fresh parsley, and fold into the mix.

Allow to simmer for a few more minutes if necessary to achieve the desired liquid level and/or consistency of broccoli.
Nutrition
Did you make this recipe?
Please leave a rating and a comment below - I'd really appreciate that - thanks!