This oven-roasted kabocha squash with feta cheese and walnuts is incredibly easy to prepare and delightfully tasty. The perfect dish to welcome fall into our homes. With red onions, honey, and thyme, our kabocha squash recipe makes for an excellent side dish or main course during the colder and more brisk months of the year.
Jump to:
Here's what makes my oven-roasted squash dish so special
Easy to prepare: I've kept this recipe quite simple using very few ingredients, available just about anywhere. In addition, preparing this dish is really quite easy and straightforward.
Phenomenal flavor palate: The combination of baked kabocha squash, feta cheese, red onions, walnuts, thyme, and honey creates a mouthwatering flavor.
Versatile: Whether served as a main course or as a side dish to any number of different entrées, this recipe is the ideal harvest treat.
Ingredients and Substitutions
Our roasted kabocha squash recipe will require only very few simple ingredients which, in combination, harmonize beautifully together and will create a never-before burst of flavors. Live to cook another day, am I right?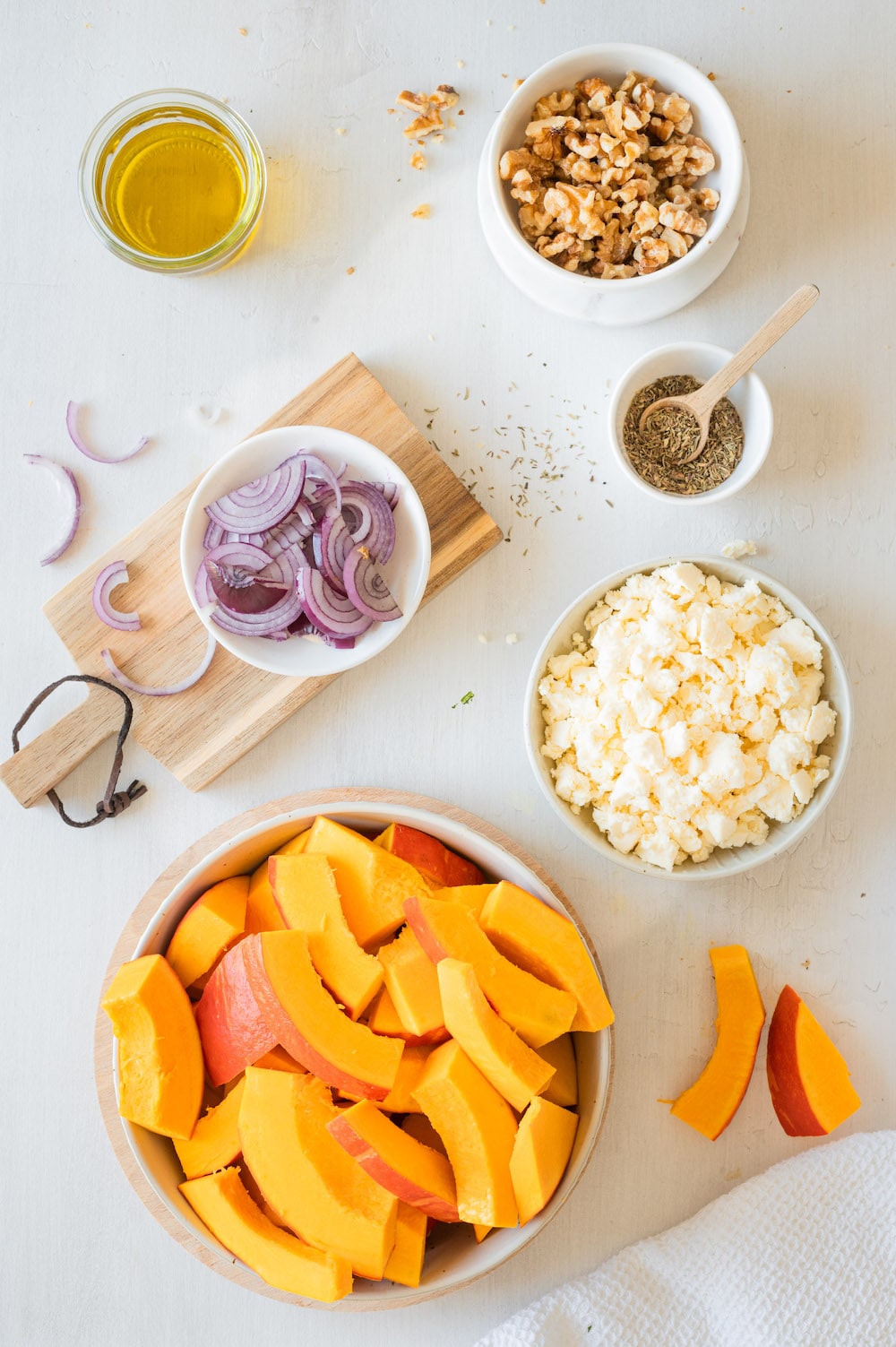 The following paragraph will provide further tips and other helpful information along with alternatives with regard to the individual ingredients. Detailed instructions and measurements can be found at the bottom of this page (see recipe card).
Kabocha Squash: In terms of flavor, the kabocha squash is the perfect match for our dish. Also known as Japanese pumpkin, its flesh has a sweet, earthy flavor with hints of chestnut and is full of beta-carotene, fiber as well as vitamins A and C. To top it all off, since you won't have to go through the ordeal of peeling, preparing it may be considered easy-peasy ;). Alternatively, you may also use other varieties of pumpkin, such as butternut squash or buttercup squash. However, keep in mind that these will have to be peeled.
Feta Cheese: Slightly melted and perhaps a bit browned in a few spots, feta cheese adds a great deal of flavor to the dish and provides a healthy dose of protein as well. Let's not forget the touch of creaminess feta will bring to our plate of yumminess. Alternatively, you may also opt to use goat cheese instead. The recipe can be adapted for vegans by incorporating any plant-based alternative to your liking, or simply by skipping the cheese entirely and/or by increasing the nut content. 
Walnuts: I love a good crunch, don't you? Adding walnuts will not only provide that longed-for bite but are also a good source of healthy fatty acids. Other good options would be cashews, pecans, sunflower seeds, or pumpkin seeds.
Onions: Red onions are mild in taste yet superbly aromatic. Craving a more intense oniony flavor? Opt to use a white or yellow onion. Looking for a milder flavor, then go with spring onions instead. To avoid the spring onions from getting burnt, I recommend marinating them well or adding them later.
Honey: Delivers a beautiful hint of sweetness and pairs classically well with thyme and feta cheese. For vegan dishes, you may also use agave syrup, for example.
Thyme: Both fresh and dried thyme will work great for our dish. Rosemary is also an option but will take the flavor profile in a completely different direction. However, not for the worse, though. It all depends on which herbs you prefer. You're the boss. 😉
It's time to bring our fall dish to the table! Dress with olive oil, salt, and black pepper et voilà, you're ready to serve.
Instructions
The oven-roasted pumpkin is surprisingly easy in terms of preparation.
Are you related to Martha Stewart or the Barefoot Contessa? Maybe you are a permanent resident of Flavortown, or simply a pro in the kitchen, requiring no further instructions? Bless your heart and good for you! Hop on over to the recipe card! For us common folk, please refer to the detailed instructions below, along with pictures covering each step. We can't all be iron chefs now, can we? 😉
Step 1
Preheat your oven to 375°F.
Step 2
Let's get started on our veggies first.
Thoroughly scrub your kabocha squash. A vegetable brush works great, for example. Cut off the top and bottom of your pumpkin, then cut it in half and scrape out the seeds with a spoon. Continue to cut the pumpkin into wedges.
You may now cut the individual wedges into either bite-sized cubes (which will bake faster) or just chop wedges into somewhat bigger chunks (1-2 cuts per wedge). Looks visually more appealing. Here are my pictures showing exactly how I did it:
Peel your red onion, chop it in half, then proceed by slicing it into beautiful half-moons.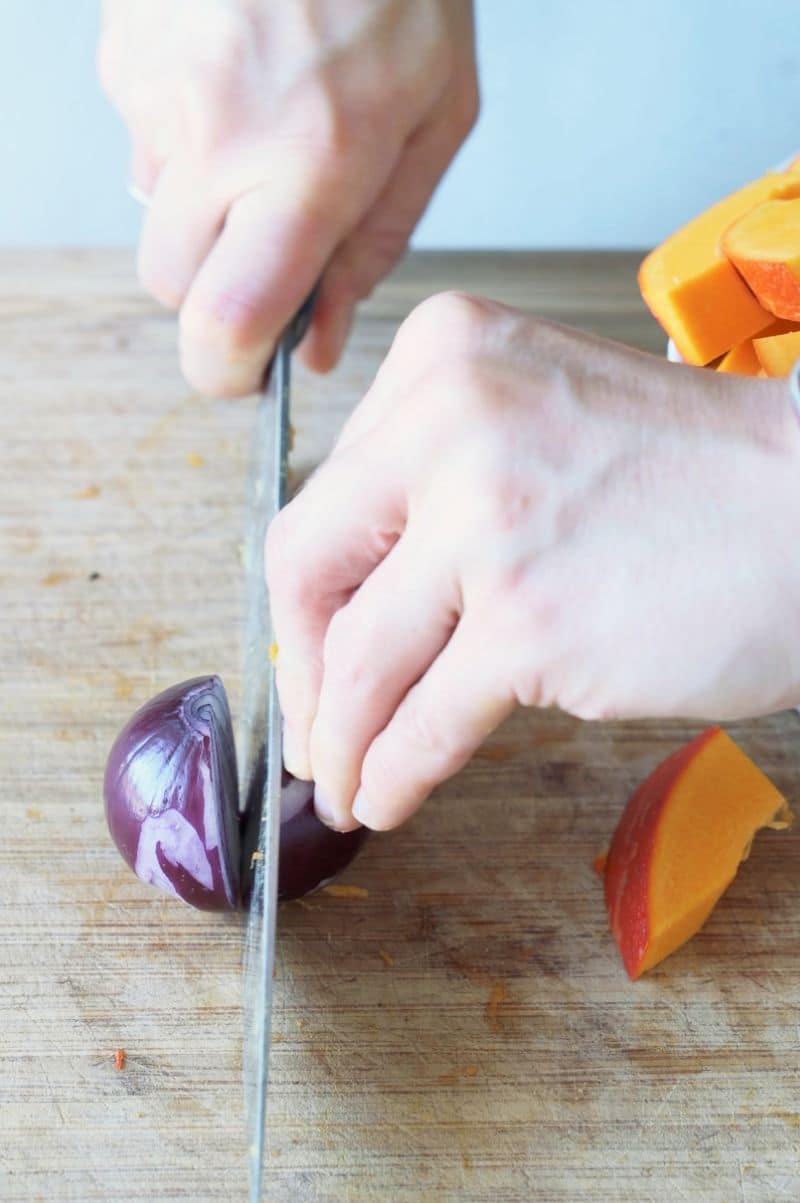 Step 3
Toss your chopped squash and onions into a bowl and generously season with salt, black pepper, and thyme (fresh or dried). Since we all enjoy seasoning at different levels, you may measure according to your preference.
Drizzle olive oil and honey over your vegetables and combine everything well.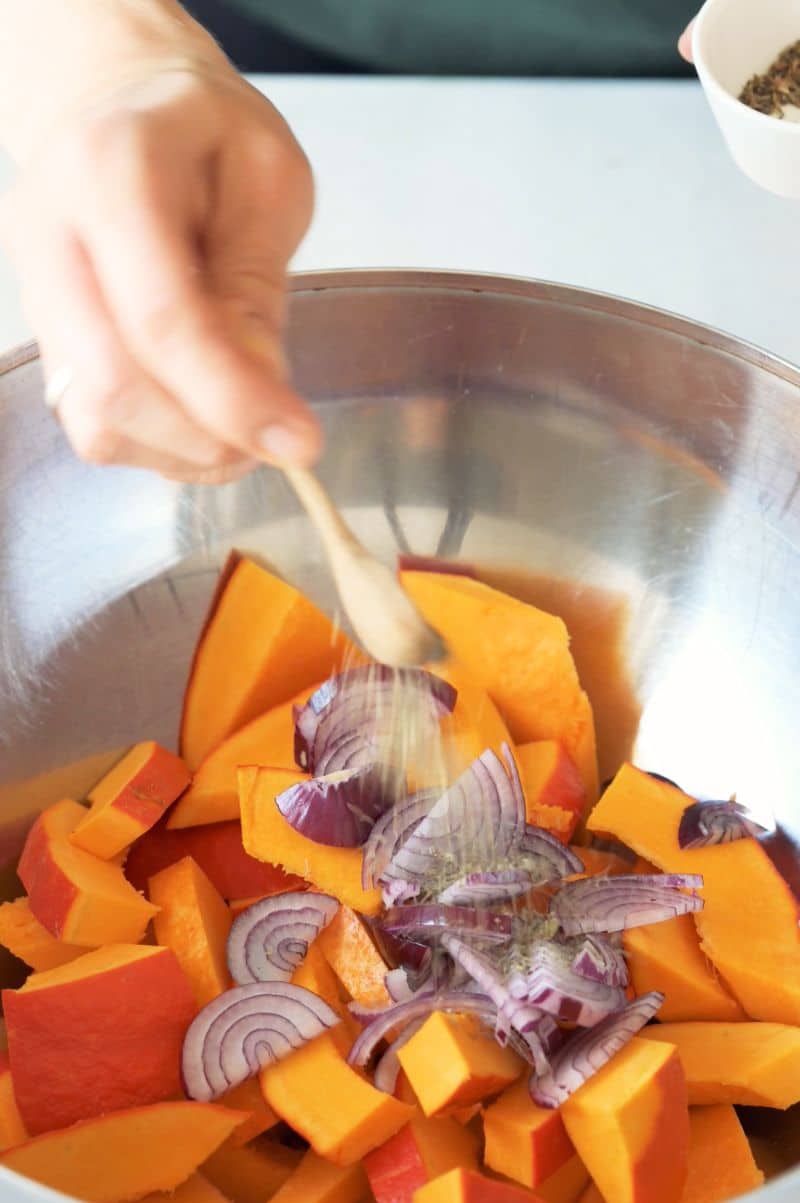 Step 4
Now, place the marinated vegetables on a baking sheet or in a baking dish. Either line your baking dish with parchment paper or evenly coat it with some canola oil (using a brush) or cooking spray, whichever you have on hand.
Arrange squash in a single layer on your baking sheet big enough to accommodate the chunks.
As you can see from my picture, I stacked the squash. This was done for the sake of aesthetics. However, I strongly recommend baking your squash in a single layer to guarantee even roasting.
Place your pumpkin in the oven and let it bake for approximately 45-60 minutes. Make sure to check tenderness on occasion, as every oven bakes a bit differently.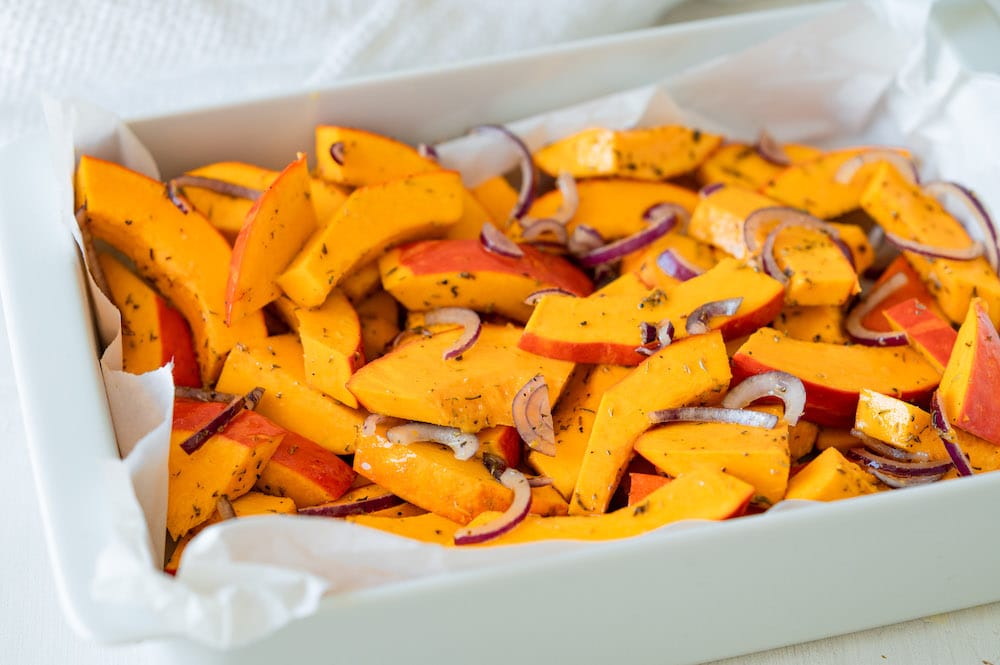 Step 5
Briefly remove your baking dish from the oven after roughly 25 minutes. 
Use a knife to chop your walnuts, or crumble them by hand and sprinkle them over your veggies. The same applies to your feta cheese. Hand-crumble it and spread it over your squash.
Return your baking dish to the oven and continue baking to desired squash tenderness (for about 20-35 more minutes). The baking time will mostly depend on the size of your squash chunks and how browned you prefer your creation. Your call! I generally prefer a good roast on my veggies. But, hey, that's just me! You do you. 😉
Perfect Pairings
This flavorful orange kabocha squash recipe can shine "bright like a diamond" all on its own, as an entrée, serving 2-3 people.
It will, however, also make for a great fall side dish, covering approximately 4 servings. Unless, of course, you are trying to accommodate foodies with a healthy appetite….growing teenagers, or a whole football team. In that case, you might want to up your recipe. Either way, you won't miss the mark with this deliciously craveable dish.
Additionally, our oven-roasted squash will also pair well with a protein, such as meat, fish, or cheese of your choice.
Related
Looking for other healthy recipes like this? Try these:
Recipe
Roasted Kabocha Squash with Feta Cheese and Walnuts
Oven-roasted kabocha squash with feta cheese, onions, walnuts, thyme, and honey.
Print
Pin
Rate
Ingredients
1

small kabocha squash

about 1.5-2 lb.

1

small red onion

4

tbsp

olive oil

1

tsp

honey

salt, black pepper, thyme

1/3

cup

walnuts

6-7

oz

feta cheese
Instructions
Cut kabocha squash into chunks and slice red onion into half-moons.

Place ingredients in a bowl and season with salt, black pepper, and thyme. Drizzle with olive oil and honey, then incorporate well.

Line baking sheet (or dish) with parchment paper, place the marinated vegetables on it and transfer to oven.

Remove dish from oven after 25 minutes and sprinkle crumbled-up walnuts and feta cheese over vegetables.

Continue baking for roughly another 20-35 minutes, or until desired tenderness is achieved. (Cooking time may vary depending on your preference for browning.)
Notes
Are you in need of more detailed instructions? Not to worry.
Simply s
croll up
to my blog post
.
You'll
find step
-
by
-
step instructions
along with helpful pictures to ease the process of creating this amazing recipe.
This dish yield
s
4
 side dish
es
or

2

-

3
servings of
entrée
.
Nutrition
Did you make this recipe?
Please leave a rating and a comment below - I'd really appreciate that - thanks!