This scrumptious red beet salad with feta cheese and walnuts is quickly and easily prepared in less than 10 minutes. The classic recipe is vegetarian, healthy, and simply just oh-so-delicious! A great side dish with delightfully wonderful flavor combinations.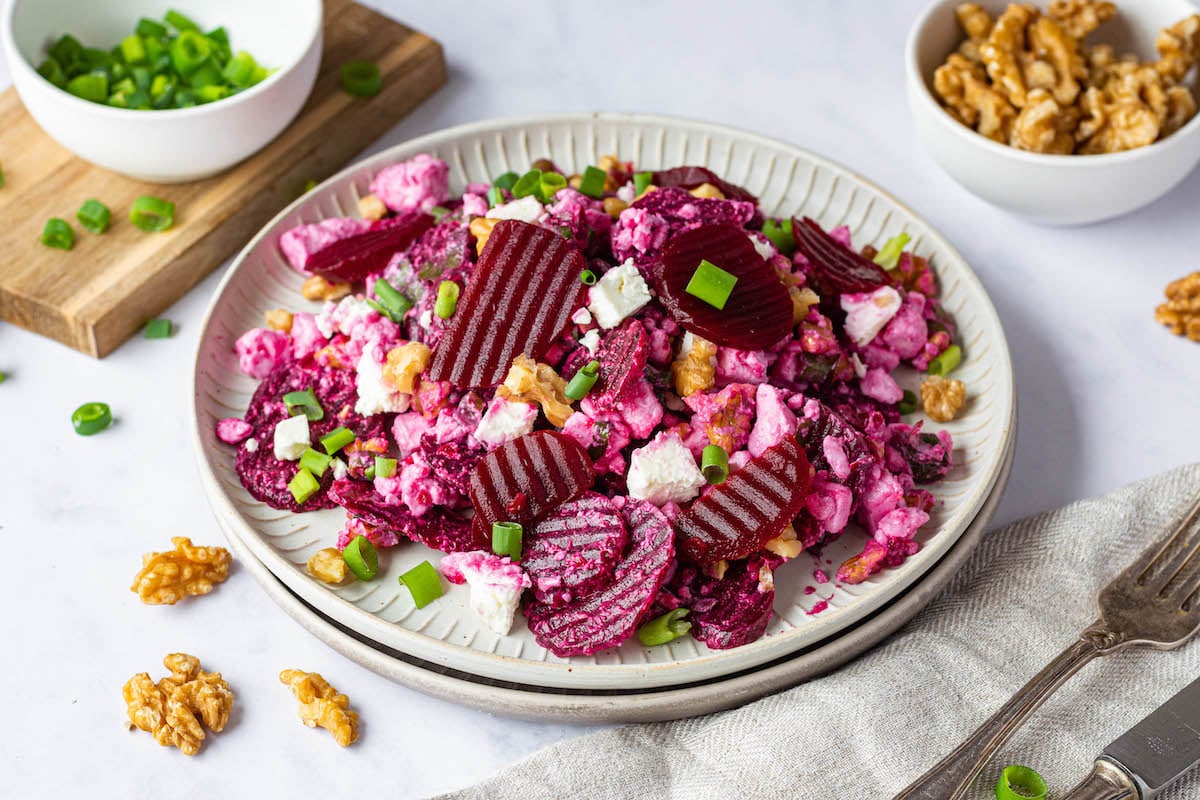 Canned ingredients are a fantastic choice for quick and convenient recipes without sacrificing nutrition. In this recipe, pickled beets add a tangy and vibrant element to the dish. Looking for similar quick and easy recipes? Then you need to also try this 15-minute lentil salad using canned lentils.
Jump to:
Quick Red Beet Salad
You know when you are having one of those days when time just seems to fly by, and you feel like you have not accomplished as much as you wanted to? You have been running around like a chicken without its head since the break of dawn? Yeah, me too. And sometimes you also just don't feel like spending that much time in your beloved kitchen to peel, chop, cook, and getting everything prepped. Hang in there. I've got you!
This recipe will have you in and out of the kitchen in no time. I adore quick and easy recipes. The red beet salad with feta cheese and walnuts is the perfect solution for when you are having one of "those" days. I hear you and I feel you ;).
Presented here is a simple (classic and traditional) yet superb salad that compels with its astonishingly mouthwatering flavor combo. The red beet's slight tartness harmonizes wonderfully with the feta cheese's saltiness and the somewhat-spicy, peppery flavor of green onions. Furthermore, the delightful combination of different textures will simply just wow you and sweep you off your feet (not literally, hopefully). It's almost like watching a culinary "tango" come to life! 😉
And all this yumminess created in under 10 minutes. What more could one ask for, right?
Let's take a look at what makes this salad so special:
extremely simple with everyday pantry items
superfast (done within 10 minutes)
year-round availability due to using pickled beets
low-carb, protein-rich, low in calories, and healthy
versatile and offers a wide variety of customization options
mighty tasty
Ingredients
What will you need for this easy beet salad? Only very few everyday pantry items:
Pickled Red Beets: This vibrant and versatile vegetable is a nutritional superfood jam-packed with essential vitamins: Antioxidants, iron, rich in phytochemicals, high fiber…. of course, typically we'd go for fresh produce, but to keep this recipe easy, quick, and simple, we'll take advantage of pickled beets in the glass or jar, pretty much available at any store you typically frequent. You are more than welcome to use raw beets. Just keep in mind that it will add to your prep time. Additional information about preparing fresh red beets can be found further below.
Feta Cheese: The feta cheese's slight saltiness harmonizes wonderfully with the pickled beet's tartness and provides the dish with a beautiful touch of creaminess. Alternatively, you may also use goat cheese instead of feta.
Walnuts: Add a little crunch to your salad by crumbling up some walnuts and tossing these in as well. Not only do they provide a perfect counterbalance in terms of texture, but they also deliver a mighty punch when it comes to healthy fats. Cheers to a well-balanced diet, my friend.
Green onions: The slight pungency of spring onions is the ideal match for this dish's flavor palate, while also rounding it out flawlessly. Opt for chives if you are shooting for a milder taste, or use "regular" onions if you want a more intense flavor. Whichever your heart desires!
Topped off with a delicious dressing made with olive oil, white balsamic vinegar, water, Dijon mustard, honey, salt, and black pepper, and your salad is ready to hit the stage!
Instructions
The quick pickled beet salad is remarkably easily prepared. Here is some more detailed information along with other helpful prep tips to create this game-changer of a salad. Further down, you may also find the summarized recipe along with a printable version thereof.
Funny to think back on how I used to dislike red beets growing up. Maybe mom just "over-served" them, lol. I would have become a fan long ago if I had been able to sample this version earlier in life! Here's to continuously broadening our horizons! Live and learn, right?
Step 1:
Using a strainer, thoroughly drain your pickled beets and let them sit in the strainer for a minute or so to remove as much excess liquid as you can. Be careful with the red liquid, though. This is a cooking "class", not a tie-dye tutorial! It stains easily!
Slice your feta cheese into bite-sized cubes, or simply crumble it by hand.
Then, chop and crumble the walnuts as well.
Now, cut your green onions into small chunks or rings. If your scallions are quite "chunky" (or "big-boned", don't want to offend…haha), cut them in half lengthwise beforehand.
Step 2:
An easily prepared dressing made with olive oil, white balsamic vinegar, water, Dijon mustard, honey, salt, and black pepper. Combine all ingredients in a small bowl or a salad dressing shaker and mix well. Pretty much any Mason jar-style container with a screw-top lid will work just fine. Just don't be shaking it up using a bowl with no lid. That wouldn't be pretty. Nor would it be clean…or time-saving. 😉
Toss your pickled red beets, feta cheese, walnuts, and green onions (or chives) into a large bowl. Drizzle your flavorful dressing over your salad ingredients, combine well, season with salt and black pepper, and then give it a little "dry run". Meaning, grab fork, insert fork into salad, retrieve said fork, guide it to mouth…and, yes you guessed correctly, taste it! 😉 If necessary, adjust seasoning with some more salt and pepper.
(If you prefer your feta cheese to retain its sparkling white appearance, you may also opt for adding it in later or right before serving.)
That's it! You're done! It barely took 10 minutes to get this delicious salad on the road. Follow me for more tips (and quick recipes)…. oops, well, I hope you already are. 😉
Preparing this salad using raw beets
If you simply have enough time on your hands and are completely bored out of your mind, opt for using fresh red beets instead of pickled ones.
The flavor will be delightful but, of course, it will take a whole lot longer using fresh produce. But you do you! Here's what you need to do:
Thoroughly wash and scrub the raw beets. If you have a vegetable brush, use that to remove dirt and debris, then continue to cut off the beet greens and stem.
Place the beets in a large saucepan, cover with water, and add some salt. Bring to a rolling boil, lower heat to medium/high, and depending on the size of your produce, let simmer for about 30-45 minutes. If you are uncertain about whether they are done, just cut into one of the bulbs and see if they would be considered fork tender. They'll have to be chopped up later on anyway, so it doesn't matter if you are performing some early-on test cutting. 😉 Better safe than sorry.
Once done cooking, drain the beets and set them aside to allow for cooling.
Afterward, prep them to be added to your salad by peeling and cutting them into small chunks.
Variations
Aside from using raw beets, there is a wide variety of ways how to customize your the simple beet salad with feta cheese. Here are a few additional ideas for you:
Don't really fancy green onions? How about chives instead? Chives are a bit milder in taste. For a richer and more intense flavor, use regular onions in place of scallions.
Looking for a "special guest" to add to your dish? How about an apple (chopped finely)? The apple's sweetness will blend in marvelously with the other components of your salad. You should definitely give it a try at some point! 😉
Substitute the traditional feta with goat cheese or another similar cheese to complement your beet salad.
You can enhance the flavor of walnuts by roasting them. Alternatively, use another nut altogether, like pine nuts, if you prefer those.
Arugula, baby spinach, spring mix, chickpeas, or parsley would also make great culinary companions for the beet salad.
Do you prefer a creamier dressing instead of the simple oil-vinegar vinaigrette? Add some Greek yoghurt or a bit of sour cream to it.
Aiming for a vegan dish? As an alternative to feta cheese, you can use any other plant-based substitute to your liking.
Perfect Salad Pairings
This flavorful red beet salad works well with pretty much any entrée. Whether you intend to serve it as an appetizer for a main course, a traditional snack, on a buffet, at a party, or a barbecue….. you won't miss the mark by serving this one!
Tip: Hold off until right before serving to add in your feta cheese (e.g., if served as a side dish at a cookout). This will prevent the feta from staining too much. It makes no difference in terms of taste, but we are visual creatures after all. 😉 I, however, always toss my feta cheese in along with all the other ingredients. Saves time and makes it easier! Keeping it quick and simple is the bottom line now, isn't it?
Also great for snacking in-between meals. Having a hearty late-afternoon salad for a change might be considered an unusual snack, but hey, why not? You've got to spread those wings and fly every once in a while. 😉 And this salad checks all the boxes when it comes to health! So, have at it and enjoy!
Of course, you may also enjoy your delicious salad as a main course. To make sure your belly is happy and full, best to add another ingredient to the dish. How about a fresh baguette from your local bakery? Or a yummy slice of whole or multi-grain bread to go with your salad? Maybe even throw it in your toaster to add another element of crunch. The sky is the limit.
Furthermore, this salad is meal prep-friendly, making it a great lunch item to take to the office or school/college.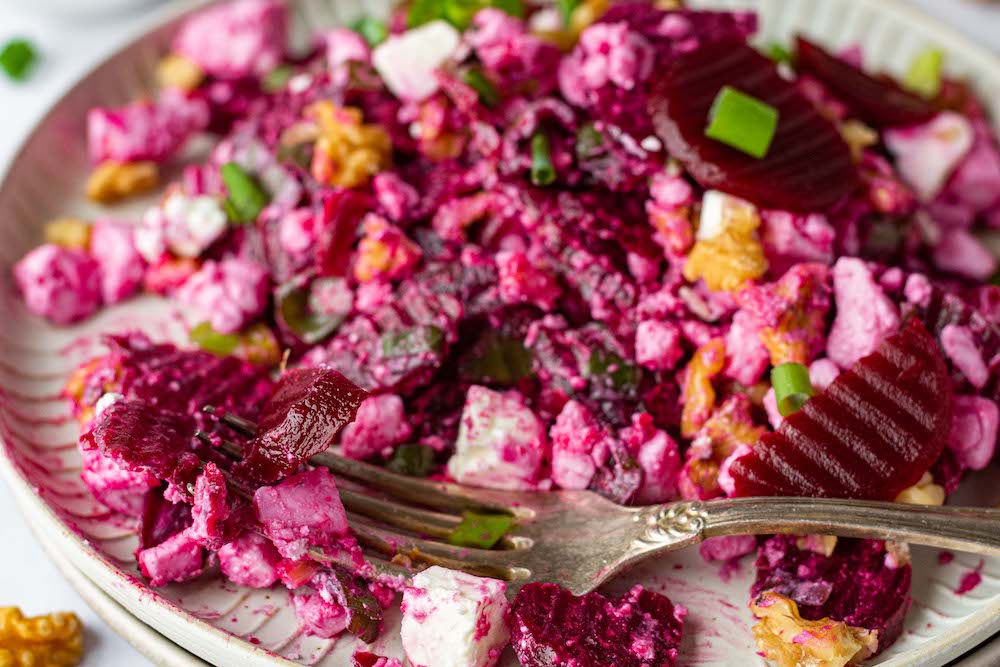 Storage and Shelf Life
The tasty pickled red beet salad with feta cheese is best enjoyed freshly prepared – you'll have it done in no time anyway. However, you may also prepare it ahead of time.
You may store the salad in an airtight container kept in the fridge for up to 2 days. Allowing the salad to rest overnight will allow all ingredients to fully develop and intensify their flavors thus making it taste even better.
Visually the salad might look like it had a little meet and greet with Rocky Balboa, but the taste will most certainly be a culinary "knockout".
Prep your salad the day before, and munch on it whenever your belly sounds like it is getting ready to rumble. It is also especially convenient as a to-go meal or when it comes to meal prep in general.
Are you having another busy day with a cookout coming up later that night, and trying not to stress out?
This recipe will be a contender for any occasion! Quick and easy when it comes to preparing it, meaning less stress on your end!
Probably best to have the recipe handy since you'll most likely be asked to share said recipe. 😉 We aim to please! 😉
Related Recipes
Looking for other healthy salad recipes? Try these:
Recipe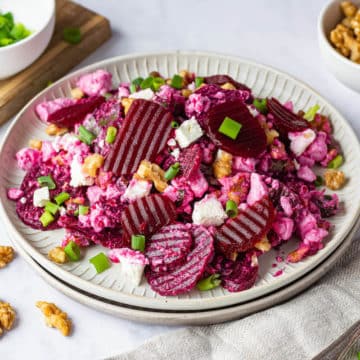 Quick Beet Salad with Feta Cheese and Walnuts
Super easy and quick recipe for a pickled red beet salad with feta cheese and walnuts. 
Print
Pin
Rate
Ingredients
Salad
8

oz

pickled red beets

e.g., Del Monte

6-7

oz

feta cheese

1/3

cup

walnuts

green onions or chives
Dressing
1

tsp

olive oil

1

tsp

white balsamic vinegar

1

tsp

water

1

dash

Dijon mustard

1

smidgen

honey

salt, black pepper
Instructions
Using a strainer, thoroughly drain your pickled beets and let them sit in strainer for a minute. Slice your feta cheese into cubes, chop or crumble up walnuts, and cut green onions into small chunks or rings.

Combine remaining ingredients to create dressing, drizzle mixture over salad and incorporate well.
Notes
Please note that t
his recipe yields 4
(small) servings (= side dish).
Nutrition
Did you make this recipe?
Please leave a rating and a comment below - I'd really appreciate that - thanks!