This midsummer salad with raspberries, fresh mozzarella, walnuts, and raspberry vinaigrette is not only visually stunning but also refreshing and beyond tasty, especially on one of those hot dog days of summer. A wonderfully light and unique summer salad.
Incorporating fruity components into one's salad gives it that special kind of oomph, wouldn't you agree? Take a look at some of my other scrumptious recipes: Quinoa Mango Avocado Salad or Curry Rice Salad with Pineapple. Summer delights, here we come!
Back to the recipe at hand! By combining leafy greens with fresh raspberries, we are not only creating a dish that will take your culinary gums to another level, but also a picture-perfect visual stunner.
Jump to:
Here's what makes this salad so special
Simple: I am keeping it very simple yet classy with this salad. You'll only need 5 main ingredients to create this dish along with a quickly prepared dressing. Mighty tasty without any hassle or fuss (hard-to-find ingredients). 
Fruity: The fresh raspberries added to your salad as well as the raspberry vinegar in your dressing provide this salad with a deliciously fruity note that will leave nothing to be desired and will most certainly turn it into a home run at your next family dinner or cookout.
Healthy: This midsummer salad is packed with essential nutrients and tastes insanely delicious.
Ingredients
Only a few simple everyday ingredients are required to create this leafy green salad with raspberries:
Leafy greens: Add your choice of leafy greens. Whether it's butter lettuce, iceberg lettuce, or even baby spinach….the world is your oyster. Pick whichever you enjoy the most!
Fresh mozzarella: To cut down on chopping time, grab the "Bocconcini" at your store. These already come in bite-sized chunks and require little to no further handling. Of course, if you can't find those, any fresh mozzarella will suffice. All you need to do is cut it into smaller chunks.
Fresh raspberries: The "star" of our dish. (Side note, I live with a little raspberry hog. They don't last long in my house. I typically need to hide some in the very back of my fridge if I plan on having some myself. If you can relate, maybe follow my lead.)
Red onions: Not only are they an absolute eye-catcher, but they also delight with another element of crunchiness while simultaneously adding a sweeter yet intense oniony note to your salad.
Walnuts: Walnuts add another layer of crisp texture and harmonize beautifully with the rest of the ingredients.
See recipe card for exact quantities.
Serve with a simple dressing made with raspberry vinegar and your salad is ready to "shine bright like a diamond".
Tip: If your pantry currently doesn't store any raspberry vinegar (it should though, just sayin') or you're not planning on hitting up a grocery store anytime soon, simply combine 1 tsp of white vinegar with 2 mashed-up fresh raspberries and mix it into your dressing.
This is not a 1:1 substitute for raspberry vinegar, but it certainly is a good alternative. Either way, I would highly recommend adding a bottle of raspberry vinegar to your grocery list. You won't regret it! 😉
Instructions
You will have this raspberry salad prepared in no time at all. Just the thought of another quickly and easily prepared recipe makes my heart beat faster.
Step 1
Thoroughly wash the leafy greens of your choice using a strainer or salad spinner to remove as much liquid as possible, or simply place them on a towel to let them dry off. Pluck or chop them into more convenient bite-sized pieces to ensure chow time goes smoothly; meaning, let's try to avoid looking like a caveman when shoving gigantic pieces of salad into our mouths. 😉
Step 2
Prepare your mozzarella by cutting it into small pieces or if you happen to use bocconcini, continue by chopping those into halves or quarters.
Step 3
Peel the red onion and cut it into small chunks. If you prefer, halve it first and then cut it crosswise for pretty half-moon shapes, or go for quarter-moon shapes by cutting the onion into quarters before slicing them thinly.
Half-moon or quarter-moon shapes are more pleasing to the eye, while chopping them into smaller pieces will generally provide better distribution of its intense flavor throughout your dish.
Step 4
Carefully wash your raspberries.
Tip: Do not rinse your raspberries under running water, as the pressure can crush them. Instead, place the berries in a sieve and dip them in a bowl of cold water. Gently swish the sieve in the water, then allow the berries to drain.
Step 5
Coarsely crumble your walnuts. This can be done easily by hand. Or use a knife to chop them up.
Step 6
Prepare your dressing by combining the olive oil, raspberry vinegar, mustard, water, and honey, then mix well using a fork or a little whisk.
Step 7
Now, simply toss all your ingredients into a large bowl and incorporate them well. Et voilà, your extra special newly created raspberry walnut salad is ready to go! Enjoy!
(If the dressing is too "dense" for your taste, it's perfectly fine to just go ahead and add a little more olive oil or water.)
Related
Looking for other healthy salad recipes like this? Try these:
Recipe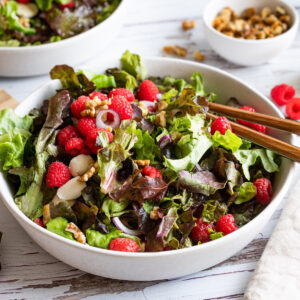 Midsummer Raspberry Salad
Fruity summer salad with leafy greens, fresh raspberries, walnuts, and fresh mozzarella. 
Print
Pin
Rate
Ingredients
Salad
1

small head of leafy greens

your choice

4-5

oz

fresh mozzarella

½

red onion

3.5

oz

fresh raspberries

typically come in 6 oz containers

¼

cup

walnuts
Dressing
1

tbsp

olive oil

1

tbsp

raspberry vinegar

1

tsp

Dijon mustard

1

tbsp

water

1

tsp

honey

salt, black pepper
Instructions
Thoroughly wash your leafy greens, let them dry off for a bit, then pluck or chop them into bite-sized pieces.

Cut your fresh mozzarella into small pieces or, if you are using bocconcini, chop those into halves or quarters.

Continue by slicing the red onion into half-moons or small chunks.

Carefully wash and drain the raspberries.

Coarsely crumble the walnuts by hand.

Use the remaining ingredients to prepare your dressing using a fork or a whisk.

Toss all ingredients into a large bowl and combine well.
Nutrition
Did you make this recipe?
Please leave a rating and a comment below - I'd really appreciate that - thanks!