This quick and simple white bean salad with tomatoes, cucumbers, bell peppers, and onions will have your next stunner of a side dish ready in under 15 minutes. It is refreshingly delicious and the perfect side salad for your next family dinner or your next cookout. To top it all off, it is super healthy and vegetarian as well!
Using canned beans will allow for a super quick preparation while simultaneously being healthy and extremely tasty (the same applies to this simple chickpea cucumber feta salad and this canned lentil salad by the way).
Jump to:
Why you'll love this White Bean Salad
Super easy in terms of preparation (under 15 minutes), as we are taking advantage of canned white beans, therefore cutting out the middleman by eliminating cooking and cooling time; You're welcome ;).
Simple everyday pantry items.
Vegetarian (optionally vegan), high in fiber and nutritious.
A basic (yet versatile) recipe that offers a wide variety of customization options.
The perfect small side salad or appetizer for your next cookout; ideal also if you're looking for a light yet mighty tasty summer dish in general.
Intense and refreshing flavor palate that impresses with a multitude of mouthwatering flavors – simply super tasty.
Ingredients
Only a few simple ingredients are required to create this finger-licking good bean and cucumber salad: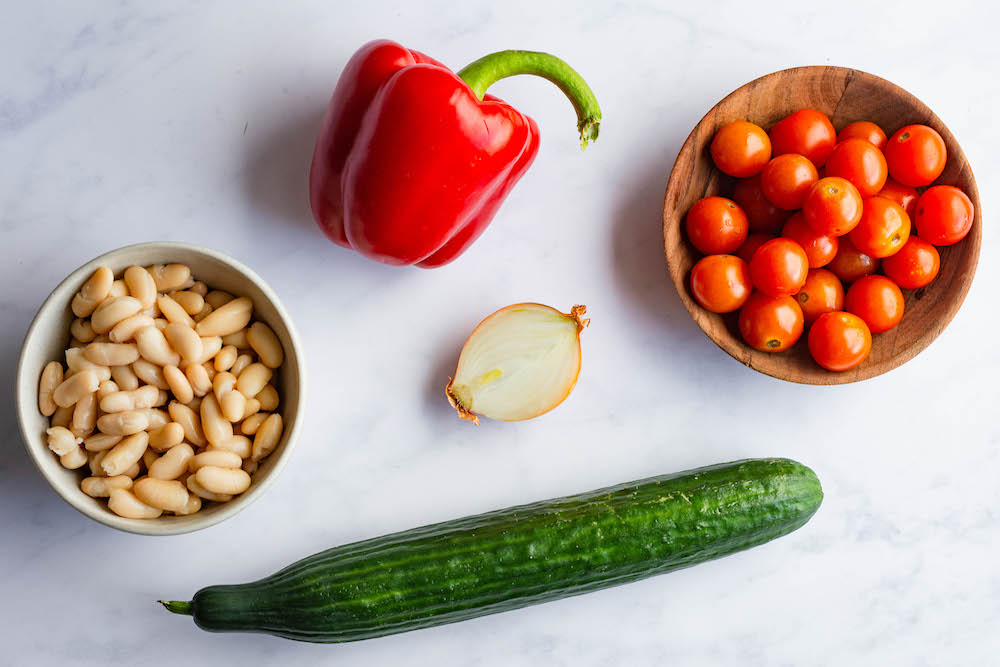 White Beans: Of course, you'll need white beans. Hope that was made clear from our recipe's title ;). You can either go with white kidney beans (also Cannellini beans), Great Northern, or Navy beans. Either white bean will work perfectly fine for this dish. You'll need about half a regular can, approximately 8.5 oz.
If you enjoy cooking for a whole lot longer than 15 minutes, you may also choose to go with dried white beans. You'd have to use about 4 oz of dried beans to equate to the above-indicated canned bean measurement.
Bell Peppers: Red bell peppers are loaded with beneficial vitamin C, while also adding the perfect crunch to our bean salad. If you prefer yellow or green bell peppers, have at it, and go with either one of those. Alternatively, you may also use banana peppers for this dish. Just keep in mind that these do not pack the same punch in terms of crunchiness. But, as always, whatever floats your boat. If you'd like to hear my 5 cents, stick with red bell peppers, as those harmonize and jibe best with our salad's flavor profile.
Tomatoes: I'd suggest using smaller, firmer tomatoes such as cherry tomatoes. Of course, you may also use "regular" tomatoes, just remember that bigger tomatoes have a higher water content which, in turn, can make your salad a bit watery.
English Seedless Cucumber: You will find them at the store labeled as 'English Seedless Cucumber'. If you go with an organic cucumber, you won't have to peel it and can just chop it up as is, then toss it straight into the mix.
Onion: A white onion will add a nice, intense note to your salad. Chop them up into pretty half-moon shapes and you are guaranteed to stun your chowtime audience with another tasty "looker".  Red onions will work great as well; however, they have a more "powerful" taste than white onions. Choose spring onions if you're looking for a milder, pungent flavor.
Fresh Parsley: Either Italian parsley or curly parsley will work just fine. As with most herbs, you just measure that stuff with your heart ;).
Serve with fresh herbs and a simple oil-vinegar-based dressing, and your delectable salad is done.
See recipe card for exact quantities.
Instructions
The cucumber tomato bean salad is incredibly fast and easy to prepare. Cutting down on kitchen time is my personal "key ingredient" and there's nothing like another quick and easy recipe to add to one's arsenal, am I right? 😉
Here you will find the more detailed and comprehensive instructions for creating this tasty dish. You may also find the summarized recipe by scrolling further down.
Step 1
Thoroughly rinse and drain your canned beans using a strainer. Make sure to rinse them until no more "foam" is visible, then set them aside for a few to drain out as much liquid as possible.
Step 2
Wash your red bell pepper, cut it in half, remove the core and seeds, and then continue by chopping it into bite-sized chunks.
Next, wash your cherry tomatoes and cut them into halves or, depending on size, quarters. If you are using regular-sized tomatoes, just go ahead and chop them into smaller chunks.
Now, wash (and peel) your cucumber and cut it into bite-sized pieces as well. You won't have to peel the cucumber if you've opted to go with organic produce.
Peel and cut your onion into half, then proceed with cutting it into half-moon shapes or, if you prefer, quarter-moon shapes. Each halved onion should be cut into quarters before being sliced for quarter-moon shapes. Either shape will look great visually.
Needless to say, you may also simply chop them up into small chunks. Although the last option might not look as appealing, it will give your dish a more even distribution of oniony flavor. Whatever makes you happy.
Step 3
Toss the drained white beans into a bowl. Add your red bell pepper, tomatoes, cucumber, and onions to the mix.
Give your parsley a good rinse and chop finely. After that, add it to the rest of the ingredients.
Last but not least, generously season everything with salt, black pepper, and paprika.
Step 4
To create our delightful dressing, combine olive oil, white wine vinegar, honey, freshly squeezed lemon juice, and water. Mix well using a fork or a little whisk. Use a regular cup or any container with a screw top, give it a good shake, and your yummy dressing is done. The most important thing is for the honey to completely dissolve and distribute well!
Pour the dressing over your salad ingredients and incorporate well. Give it another quick taste to make sure it's up to the chef's standards!
Variations
I have kept things in my bean cucumber tomato salad as simple as possible. Feel free to adjust this recipe in whichever way you prefer. Listed below are a few additional ideas for you:
Feta cheese pairs beautifully with our other salad ingredients. Keeping a serving size of 4 in mind, I'd say approx. 5 oz of feta cheese should do the trick. But, of course, feel free to add as much as you'd like, and since they typically come in 4, 6, and 8 oz containers, you wouldn't want to waste anything. So, bottoms up and toss it in! Live to cook another day, right? 😉 Adding feta cheese also provides a good dose of protein, keeping that tummy feeling full for longer, while also making your salad creamier.
Craving a vegan dish today? Substitute the honey with agave or maple syrup (or something similar) and opt for vegan feta cheese instead. 
Fancy a more intense flavor? Add a garlic clove straight to your dressing using a garlic press. The perfect flavor combination for your next BBQ as well, btw ;). 
Looking for a Mediterranean or Greek touch to your dish? Then opt to add in some olives (in addition to your feta cheese). 
As another herb, and depending on your personal preference, either fresh or dried thyme may also be added to elevate your dish.
Perfect Pairings
The quick and easy white bean salad I created was meant to be served as a side salad. Its servings yield smaller portion sizes that may be combined with a multitude of various other main dishes or entrées. Also a perfect appetizer or side dish to complement your favorite sandwich at lunchtime. 
This salad will most definitely have people licking their bowls at your next cookout. Mighty delicious and delightfully refreshing and to top it all off, done in no time at all. What's there to think about? Exactly. Nothing. Get to it. 😉 If you intend to whip this dish up for a large BBQ crowd, just double or even triple the recipe. The last thing you want is to run out of food before everyone is fed. ;)
Another bonus is the meal-prep-friendly nature of this cucumber and white bean salad, making it the ideal office lunch or nutritious snack on the go. You're welcome!
FAQ
How long can the salad be stored?
Stored in the fridge in an airtight container, it'll last up to 2 days. Most likely even longer than that.
Just be mindful of the fact, that the longer you store it, the "mushier" the consistency will become.
What can I do to make this salad easier to digest?
Don't necessarily tolerate beans that well? Concerned about digestive distress? This is a very valid concern. Here are a few things you can do to make sure your salad is easier to digest:
Be very thorough when rinsing and draining your beans. Make sure you take your time and that there is no more "foam" visible when done washing this produce.
Utilize spring onions instead of regular onions.
Make sure to pair the salad with other food groups to balance your intake of fibrous nutrients when eating beans.
Start with smaller portion sizes and increase your bean consumption gradually. #dontbeahog  😉
Can I prepare this salad ahead of time?
My white bean salad is perfectly suited to being prepared ahead of time. As with many of my recipes, allowing for all ingredients and aromatics to "merge" will help with fully developing their flavors. Just keep in mind that, as indicated above, the longer you let your dish "rest" the bigger the chances of losing some of its crunchiness and becoming "mushier".
If you are planning on attending a cookout one night, I'd highly recommend prepping this salad later that same afternoon (it really won't take long to get it done). Now, if you're planning on taking this salad to work, then, of course, it'll be perfectly fine to prepare it the day before.
Can I use dried white beans for this dish?
Absolutely. You are more than welcome to use dried beans. You should expect to use approximately 4 oz for this recipe.
Related
Looking for other quick and easy salad recipes like this? Try these:
Recipe
White Bean Tomato Cucumber Salad
Super simple yet delicious and nutritious recipe for a white bean salad with tomatoes, bell peppers, onions, and cucumber.
Print
Pin
Rate
Ingredients
Salad
8.5

oz

white beans

1

red bell pepper

1 1/3

cups

cherry tomatoes

1

English seedless cucumber

½

white onion

fresh parsley

salt, black pepper, paprika
Dressing
2

tbsp

olive oil

1

tsp

white wine vinegar

½

tsp

honey

1

splash of freshly squeezed lemon juice

2

tbsp

water
Instructions
Thoroughly rinse and drain your white beans, then set aside to let them drain out some more.

Chop up red bell pepper, tomatoes, and cucumber into bite-sized chunks. Peel and slice your onion into either half-moon shapes or simply dice it.

Toss your beans and other vegetables into a bowl, season to taste, and garnish with your fresh parsley.

Combine all remaining ingredients to create the dressing and drizzle over your salad. Incorporate all components well. Then, give it another quick taste and adjust seasoning if necessary.
Nutrition
Did you make this recipe?
Please leave a rating and a comment below - I'd really appreciate that - thanks!