This super delicious German carrot and apple salad with walnuts is vegan, vegetarian, and a perfect and refreshing addition to your raw food diet.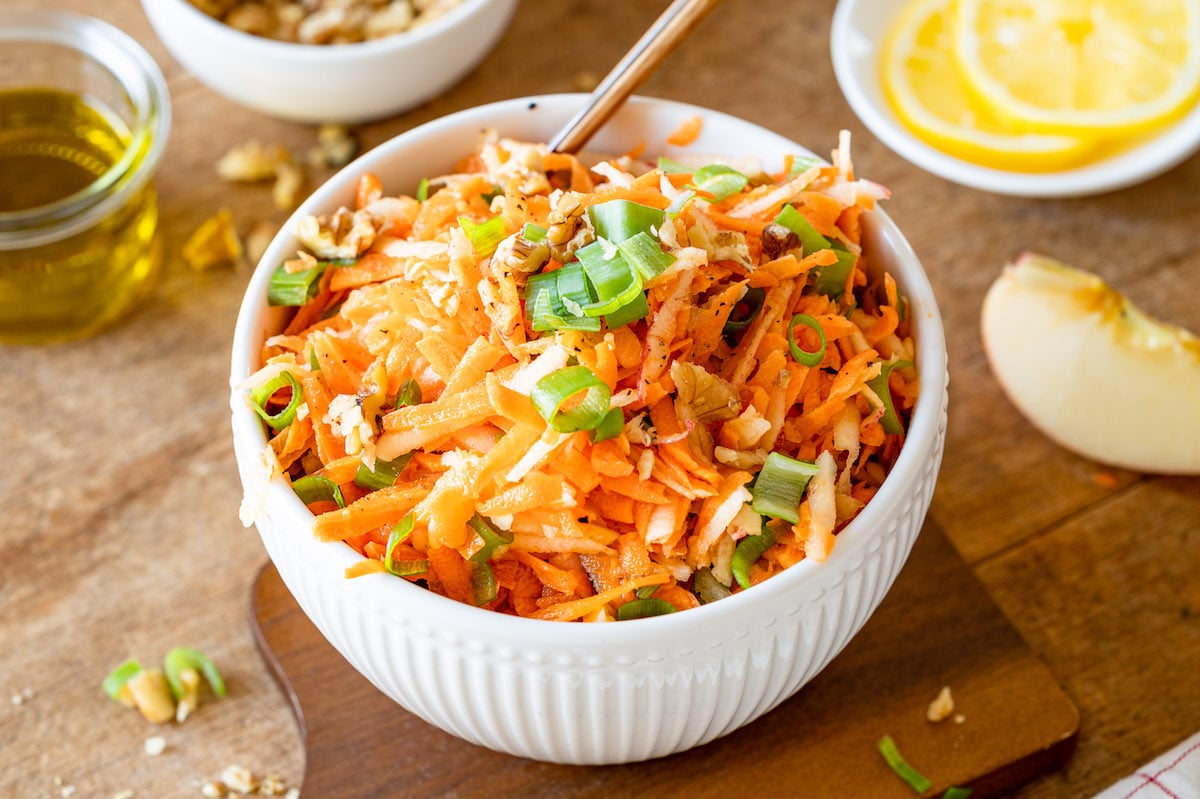 I believe we can all appreciate a quick and easy recipe to fall back on while simultaneously juggling our everyday, busy lifestyles. In and out of the kitchen in no time and back to quality time with our families, right?!
Well, let me introduce this super delicious and authentic German carrot and apple salad with walnuts to you.
Jump to:
Authentic German recipe – quick and easy
I absolutely adore quick and easy recipes! No fancy ingredients but pantry regulars, which in turn will cut out a dreaded (or maybe just inconvenient) run to the grocery store.
No fancy gadgets are required either, just your everyday kitchen utensils. No bells and whistles, but delicious beyond measure!
This carrot and apple salad with walnuts has been a regular go-to and fan-favorite in my house, and I have been preparing it for many years.
Whether as a side for your well-earned sandwich at lunch, a quick snack in between meals, or maybe even a picnic in the park. Trust me when I tell you that this salad is simply delightful!
In Germany carrot salad ("Karottensalat") is quite popular. There's lots of different variations. This is the one I like best – a real authentic recipe!
It might not be your traditional salad and combining apples and carrots might also not be what comes to mind first, but I highly recommend giving this salad a shot.
You do not want to miss out on a creation that tastes like heaven, and there simply is no room for culinary regrets in life ;).
In just 10-15 minutes, you will have prepared this mouthwatering salad. It is vegan, vegetarian, and, of course, gluten-free. A healthy and scrumptious raw salad.
Ingredients
Only a few simple ingredients are needed to create this traditional German carrot salad:
See recipe card for exact quantities.
Carrots: These form the base of our salad. Simply grate them and toss them in your salad bowl. You may grate the carrots coarser or finer. That totally depends on your preference. A bit more crunch and bite, then go with the coarse cutting side of your grater. Your kitchen, your rules! 😉
Apples: The apple will be grated as well. Its tangy sweetness pairs perfectly with the carrots. It's best to use an apple on the firmer side, as it'll make grating easier and will also allow for the apple to keep its crunchiness and not fall apart too quickly.
Walnuts: Walnuts will add a certain "oomph" to your salad. On the one hand, they provide a delightful crunch, and, on the other hand, they add healthy fatty acids to your dish. If you have walnuts on hand, go ahead, and chop them up. If you'll have to go grab them from the store, might as well just buy the pre-chopped ones. It'll save you a prep step ;).
Scallions: With a slight hint of spice, this herb will round out and complete your dish to perfection. For a slightly less intense flavor, you may also use chives instead of scallions.
In essence, all you need for this salad are 4 key ingredients. Unless, of course, you'd like to be picky and count the ingredients required for your dressing as well ;).
Sounds simple enough, don't you think? Head on over to your pantry and let's get started!
Instructions
Assembling this grated carrot apple salad is super simple and most importantly quick:
Step 1
Peel the carrots and coarsely grate them. If your grater offers different blade options, I would opt to go for the coarser side. 100% your call, though. You are more than welcome to grate them more finely too if that is your preference.
Peel and coarsely grate the apple. I'd highly recommend choosing your grater's coarse side, as you might just end up with a mushy mess if you grate the apple too finely. Your creation will have lost its lovely bite and beautiful texture, and that's not what we are aiming for here!
Alternatively, you may also cut the apple into very small cubes, but grating would most certainly speed up the process.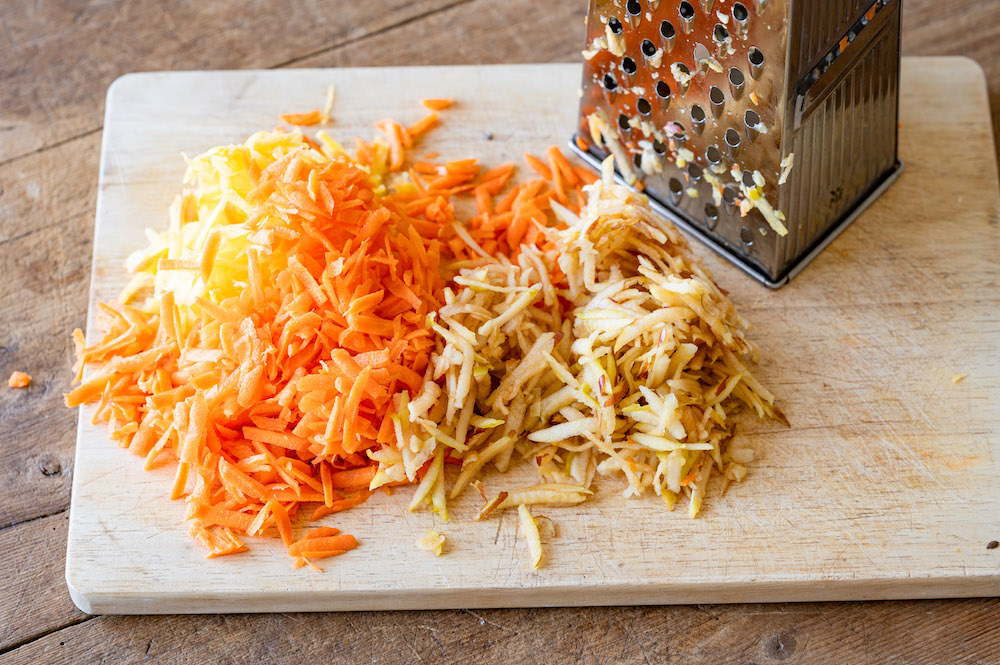 Step 2
Coarsely chop the walnuts. Either by knife or just crumble them by hand.
Rinse, clean, then mince the spring onions.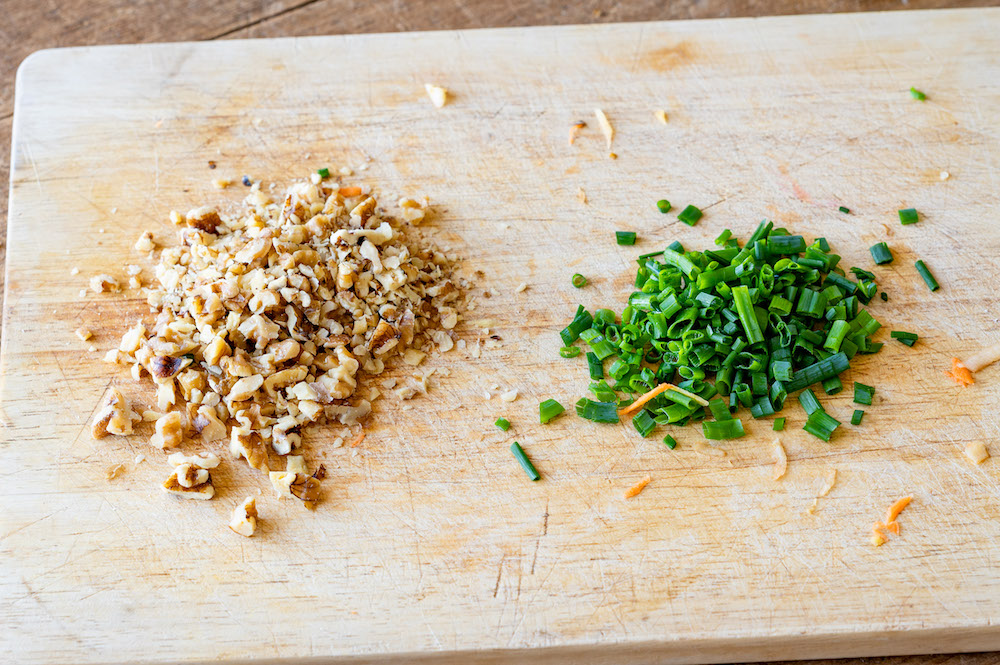 Step 3
Add carrots, apples, walnuts, and scallions to a bowl.
Step 4
Drizzle olive oil evenly over the salad mixture. Add water and the juice from a freshly squeezed lemon as well.
Of course, you may also prepare your salad dressing separately, but again, I am trying to be as time efficient as possible. Hence, drop it all in one bowl! No need for extra dishes to clean up later as well.
Last but not least, mix the salad well and season to taste with salt and pepper. Et voilà!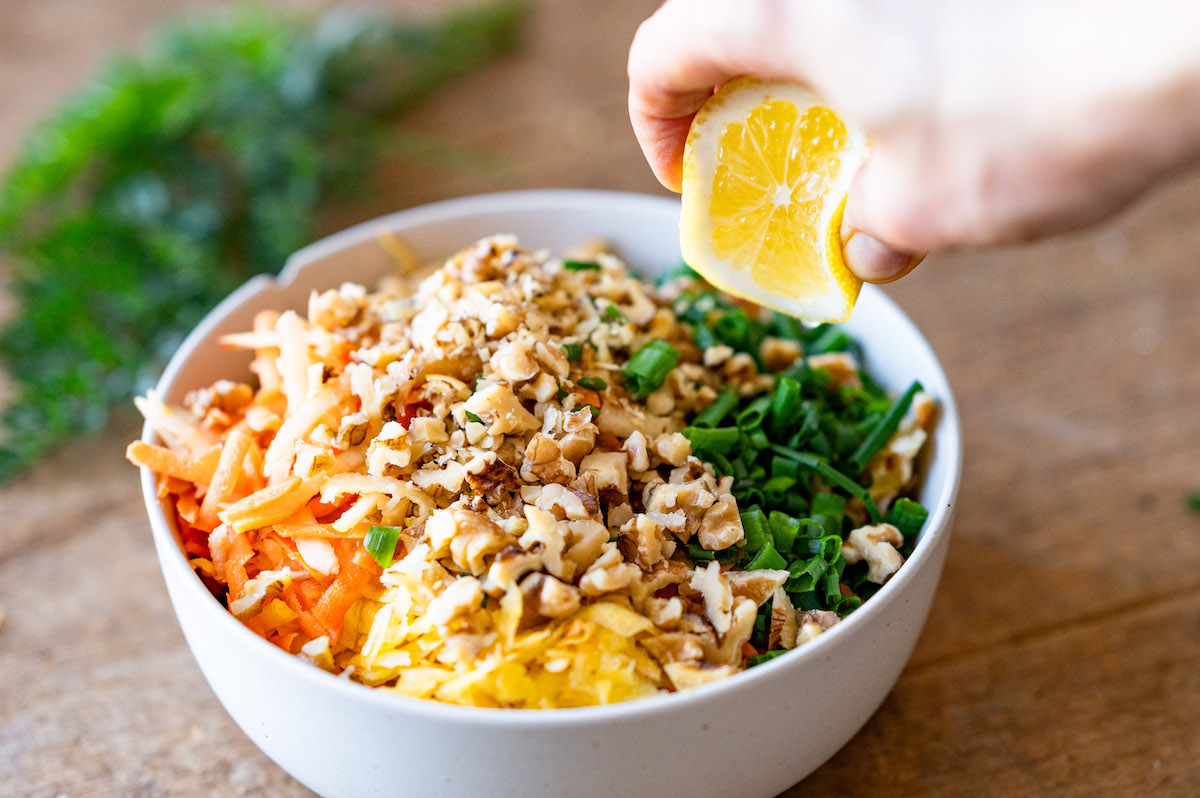 Perfect pairings for the carrot salad
The delightful German carrot and apple salad pairs perfectly with pretty much any meal you choose to prepare.
Need a quick appetizer? Check!
Need a hearty snack to hold you over until your next meal? Check!
Need a healthy lunch for work? Check!
Need a little side to go with your main dish? Check!
As you can see, there are many options to pick from.
Easy and quick preparation in the morning or the night before! Either way, you can't go wrong with this one.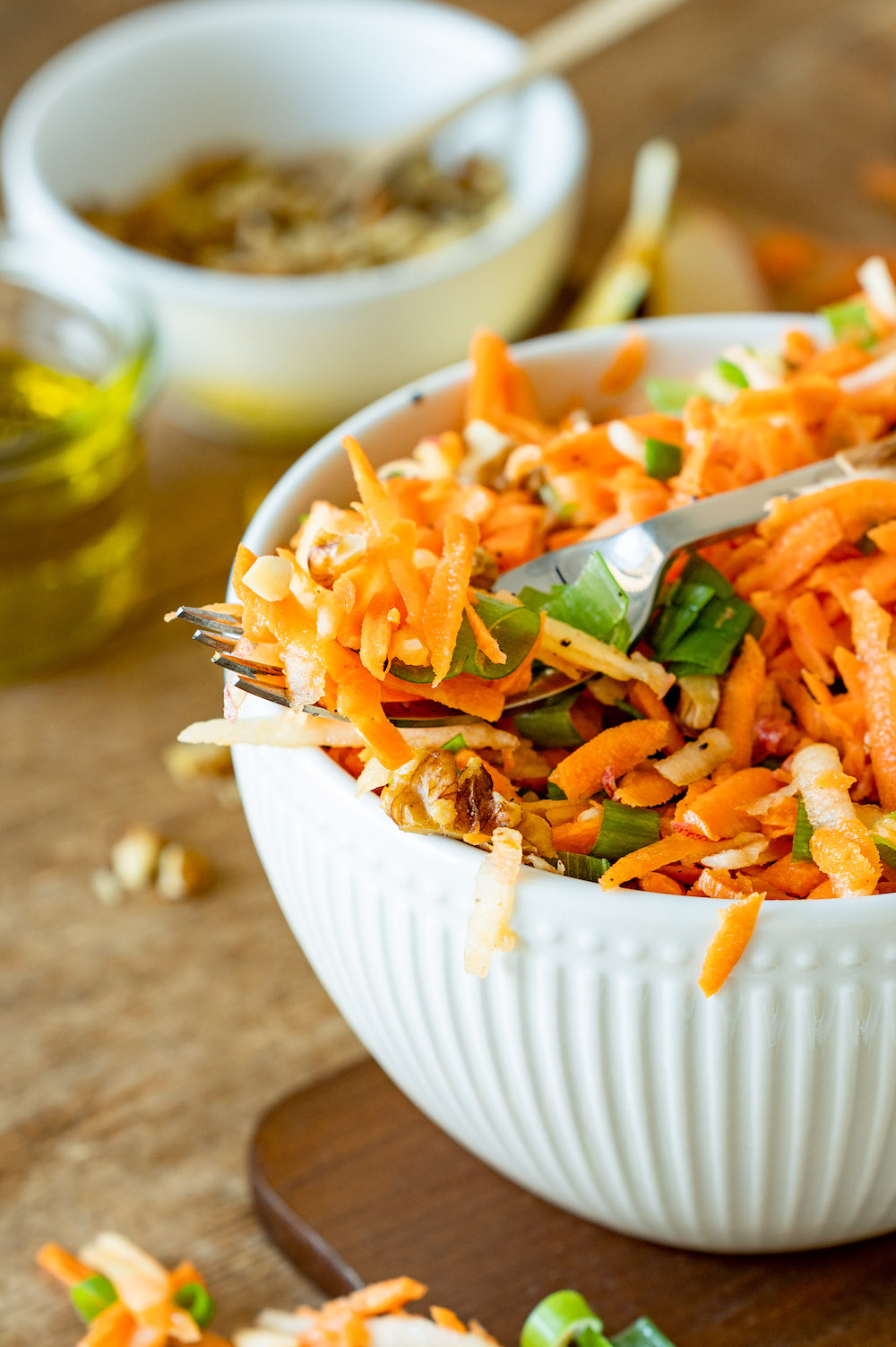 FAQ
Can I prepare the carrot salad ahead of time?
Yes, you can. If you plan on taking the salad to work for lunch, you can easily prepare it the day before. My only advice would be to add the apple in the morning, right before you head out. It doesn't have to be grated, you could just cut it into small cubes and add it.
Of course, you are more than welcome to add the apple the night before. However, in that case, I would highly recommend adding a bit more lemon juice to avoid excessive browning. 😉
How long can the carrot apple salad be stored?
Immediate consumption is the way to go here. However, it'll keep for at least another day in the fridge if stored in an airtight container. Just remember, it's best to add the apple just before serving or before heading out.
Recipe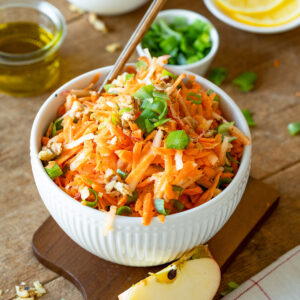 German Carrot and Apple Salad
A quick and easy recipe for a delicious raw salad made with carrots, apples, and walnuts.
Print
Pin
Rate
Ingredients
2

cups

carrots

grated

1

cup

apples

grated/cubed

½

cup

walnuts

1

tbsp

olive oil

1

tbsp

lemon juice

freshly squeezed

2

tbsp

water

scallions

salt, black pepper
Instructions
Coarsely grate carrots and apples.

Coarsely chop up walnuts and mince chives.

Place all ingredients in a bowl.

Add water, oil, and lemon juice, then season to taste with salt and pepper.
Nutrition
Did you make this recipe?
Please leave a rating and a comment below - I'd really appreciate that - thanks!