This healthy chickpea salad with feta cheese, cucumber, and tomatoes is quickly and easily prepared, nutritional, and super tasty. Whether you're preparing a meal for a BBQ or enjoying a hot day outdoors, its light and refreshing nature makes it the ideal summer dish.
Jump to:
Simple and Quick Salad
Not only is this salad mighty simple – requiring only a few everyday pantry items – but will also have you in and out of the kitchen in a jiffy. Meaning, taking advantage of canned chickpeas helps keep your kitchen "stay" to a bare minimum.
Chickpeas can be devoured Survivor-style straight from the can and do not require any additional preparation, i.e., no need to cook them, which is precisely why we are "cashing in" by using these for our delicious salad. 😉
Story time. I'll be quick, promise. It always makes me laugh to think of the German word for "chickpeas". We call it "Kichererbsen", which translated into English means "giggle peas"….why, you may ask? Don't know. Still funny though. #endofstory
Here's what makes my chickpea salad so special:
quick and easy in terms of preparation
vegetarian (vegan option)
low in calories, high in fiber, and low-carb
healthy
Mediterranean flavor profile
versatile and offers a wide variety of customization options
Ingredients
Our delectable chickpea salad consists of only very few everyday pantry items, such as:
Chickpeas: Utilizing canned chickpeas is the base for creating this quick and easy recipe. They are a great source of plant protein, high in fiber, low in calories, and incredibly tasty!
Tomatoes: Grape or cherry tomatoes are perfect for our salad as their water content is on the lower end, thus avoiding the salad from becoming too watery. Furthermore, and from a visual standpoint, utilizing smaller tomatoes enhances the dish in terms of "looks". A feast for your eyes as well, so to speak. 😉 Of course, you are more than welcome to use "regular" tomatoes!
(English) Seedless Cucumber: Incorporating a seedless cucumber as a classic ingredient also pairs nicely with the remaining ingredients of our salad. They typically go by either English cucumber or seedless cucumber. The important thing here is to opt for seedless cucumbers.
Feta Cheese: Feta cheese harmonizes wonderfully with the chickpeas by adding another layer of protein to the dish while also providing a nice touch of creaminess. The ideal complement to round out our delicious salad. Alternatively, you may also use goat cheese or any other similar cheese your heart oh so desires or longs for. 😉
Scallions/Green Onions: These add a mild and pleasing pungency to our salad, while also enhancing our dish with a vibrant "splash" of color. If you are looking for a more intense flavor, opt to use "regular" onions instead.
Finish it off with a simple yet super yummy dressing made with olive oil, freshly squeezed lemon juice, honey, salt, and black pepper and your salad is ready to make its big entrance. Easy as pie now, wasn't it?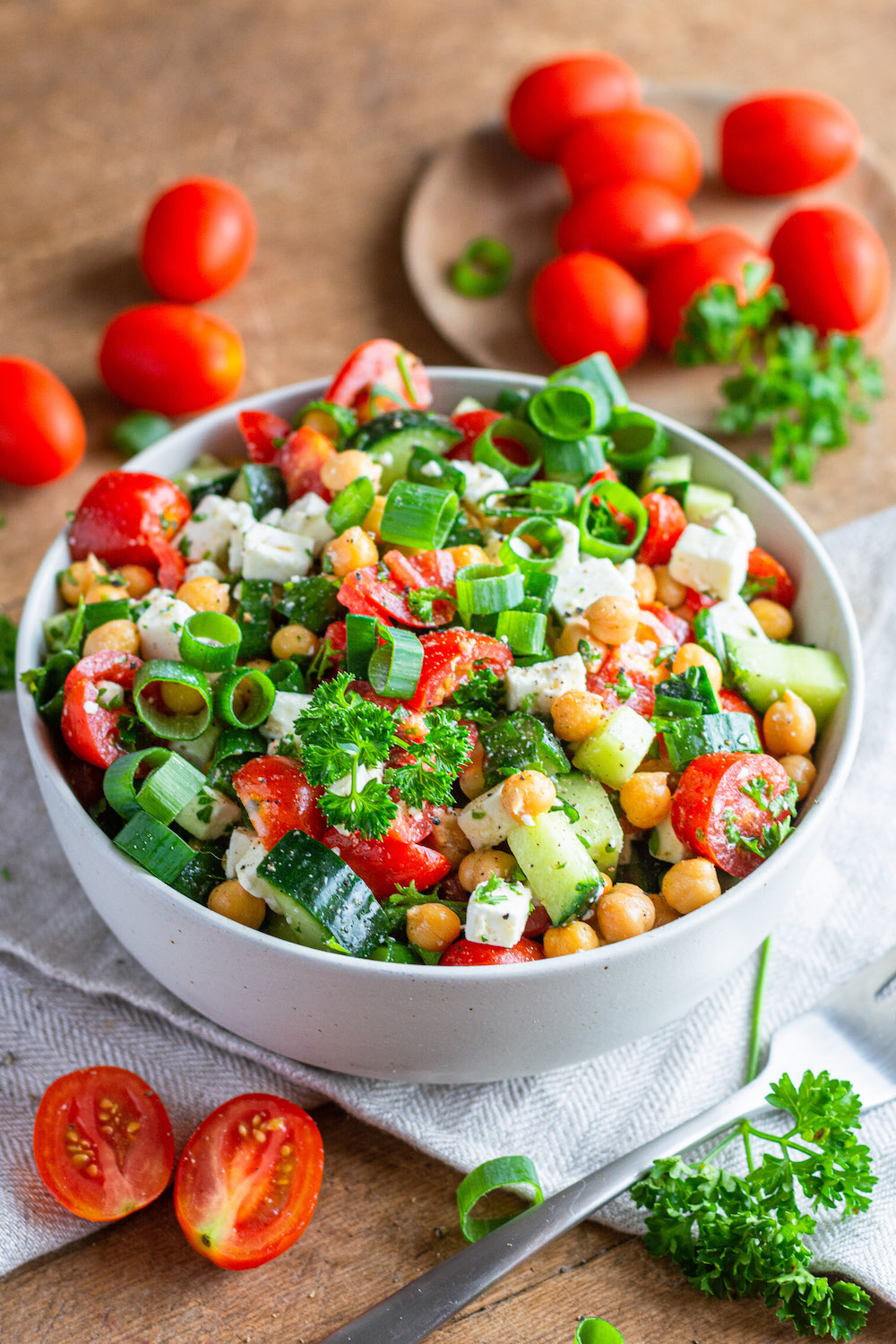 Instructions
Preparing this quick chickpea salad with feta cheese is really quite simple. Here's what you need to do:
Thoroughly drain and rinse your canned chickpeas using a strainer. Make sure to rinse them until no more "foam" (also referred to as aquafaba) is visible, then let them sit for a few to remove as much excess liquid as possible. You have the option to peel the chickpeas by popping each of them out of their skin, however, this process would be quite time-consuming. If you do have a sensitive stomach though, removing the skin might make it easier on your digestive system, so keep that in mind.
Wash your seedless cucumber and remove both ends before chopping it into bite-sized chunks. There's no need to peel them, especially when utilizing organic cucumbers. Next, after rinsing your cherry tomatoes, cut them into halves or quarters.
Then, remove your feta cheese from its packaging, drain it, and chop it into bite-sized cubes as well. Or simply crumble the cheese by hand.
Now thoroughly wash your scallions before cutting them into small pieces or rings. If your fresh parsley is "blessed" with thicker center stems, remove those before chopping it up finely.
Finally, combine your drained chickpeas, cucumber, tomatoes, feta cheese, green onions, and parsley in a large bowl.
Create the dressing by combining olive oil, freshly squeezed lemon juice, honey, and water. Mix well using a fork or a little whisk, then season to taste with salt and black pepper.
Drizzle your delightful vinaigrette over your salad ingredients, combine well, and give it a little taste test to determine whether you'll need to adjust the seasoning.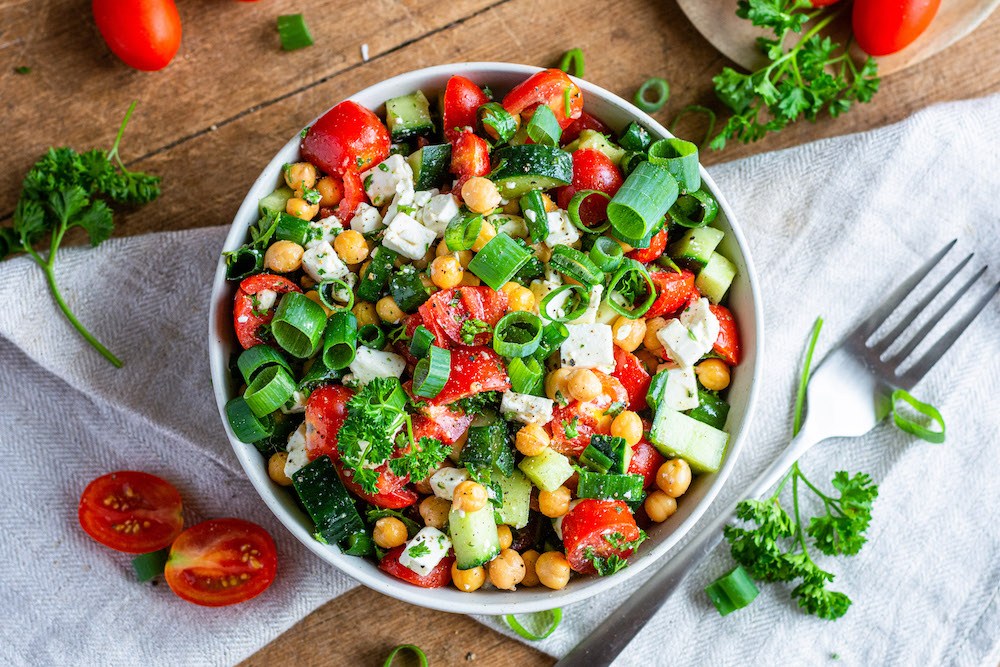 Hint: I highly recommend letting the salad "rest" for a bit. It's like taking a little nap before going out. Resting allows for all ingredients and aromatics to blend and fully develop their flavor, thus letting your salad "shine bright like a diamond". 😉
Obviously, resting is not a must. If you are too impatient to wait, go ahead and start chowing down now. It is, after all, the ideal side salad or nutritional snack on the go.
Variations
Not necessarily a rule-follower (in this case, recipe instructions) but more of an "adding my own spin"-kinda person? Well, you do you. 😉 Here are a few ideas to lean on:
Looking to create a vegan dish? Substitute the feta cheese with any other plant-based ingredient to your liking. Cashews and walnuts are also an option…. For the dressing, incorporate agave syrup instead of honey.
If you are aiming for an additional "boost" to your salad, give these a try: avocados, arugula, bell peppers, or any other vegetable of your preference. Maybe add some garlic to your dressing for some extra flavor? There's that saying…. a garlic a day keeps people away. Perhaps today is a day for as little "peopley" interaction as possible? 😉 Opt for two or 10 garlic cloves. 😉 Just joking. A little.
I've wanted to keep this recipe quite simple, as sometimes 'simple' is simply best. If you're craving Italian today and would like to have your dish lean towards a more Mediterranean profile, why not add some herbs like oregano or rosemary? Even some olives would work quite well with our dish. Olives combined with red onions (instead of scallions) would have the salad take on a wonderfully Greek note. Italian or Greek. Which one shall it be? You're the chef. Make up your mind. 😉
Looking for a more oriental flavor profile, why not add spices such as turmeric or cumin?
Many options to choose from to make it your own. 😉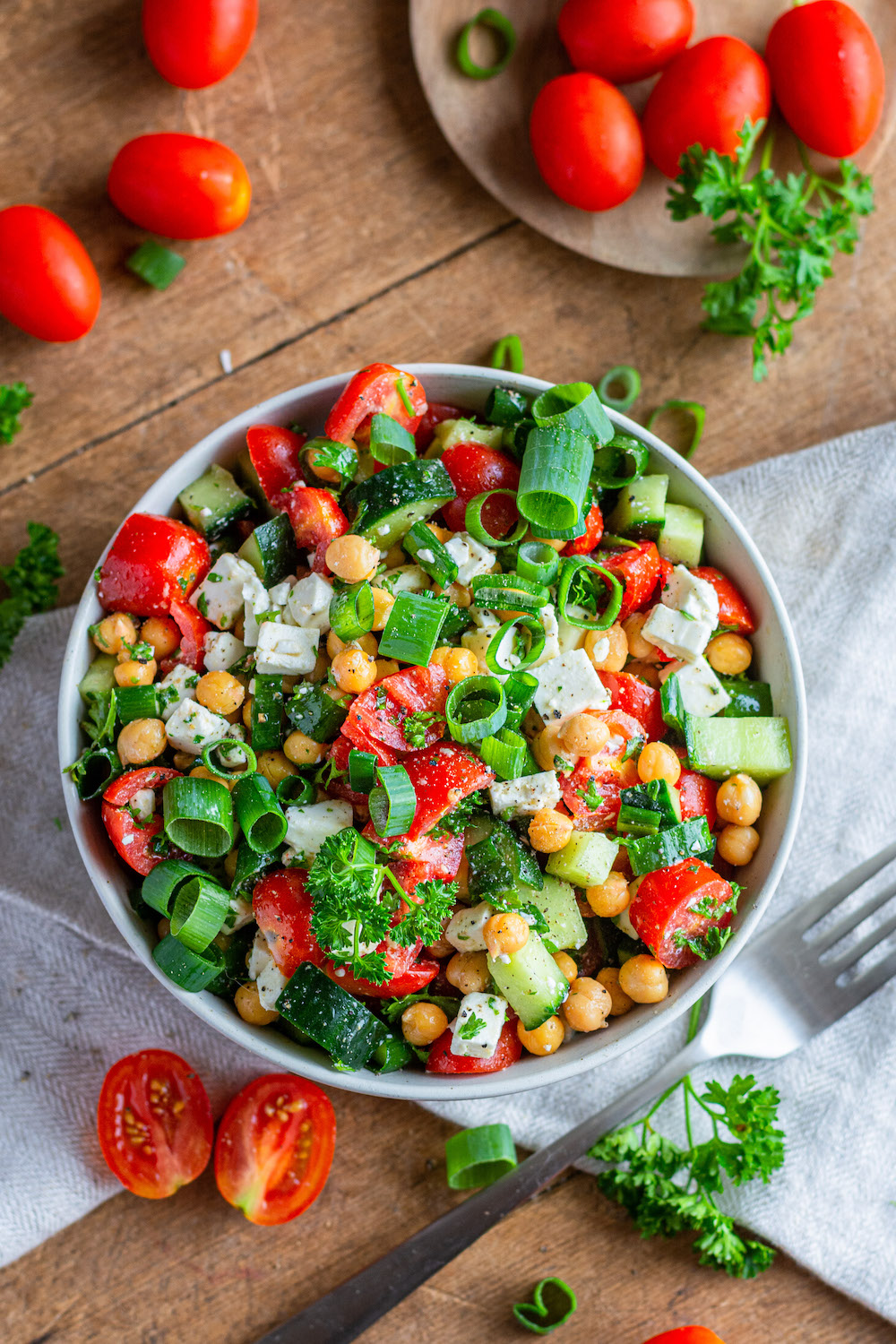 Perfect Pairings
The chickpea salad was created to shine as a side dish. The perfect arm candy, if you will ;). You may serve it as a side or an appetizer to any main course you may select. With its delightfully refreshing and delicious notes, this salad would also work especially well for a lovely cookout with friends and/or family on a hot summer's day.
Its quick and easy setup makes it extremely meal-prep friendly, thus making it easy to prep ahead of time or even serve it at a buffet-style gathering.
Tip: This quick salad would also make a perfect wrap filling! Give it a try!
Of course, you are more than welcome to enjoy this delectable salad as a main course as well. I would recommend increasing the recipe quantities indicated herein or adding a few other "tummy-fillers", such as oven-roasted (or cooked) potatoes, a fresh baguette, pita or naan bread. Simply an ideal light summer dish!
Related
Looking for other simple salad recipes like this? Try these:
Recipe
Chickpea Salad with Feta Cheese, Cucumber, and Tomatoes
A quick and easy recipe for a delightful summer salad with chickpeas, feta cheese, tomatoes, and cucumber.
Print
Pin
Rate
Ingredients
Salad
1

can

chickpeas

1

seedless (English) cucumber

1 ½

cups

cherry tomatoes

6-7

oz

feta cheese

scallions / green onions

fresh parsley
Dressing
2

tbsp

olive oil

1

tbsp

lemon juice

freshly squeezed

1

tsp

honey

1

tbsp

water

salt, black pepper
Instructions
Thoroughly drain and rinse canned chickpeas using a strainer.

Wash cucumber and chop into bite-sized chunks. Rinse cherry tomatoes and cut into halves. Chop feta cheese into cubes as well.

Cut scallions into small pieces and finely chop fresh parsley.

Combine all ingredients in a large bowl.

Create dressing with remaining ingredients using a fork or little whisk, then drizzle over salad.

Combine well and season to taste with salt and pepper.
Nutrition
Did you make this recipe?
Please leave a rating and a comment below - I'd really appreciate that - thanks!