This crisp radish salad with apples and scallions is is incredibly quick and easy to prepare. It tastes wonderfully refreshing and light, making it the perfect healthy summer salad or side dish for your next cookout.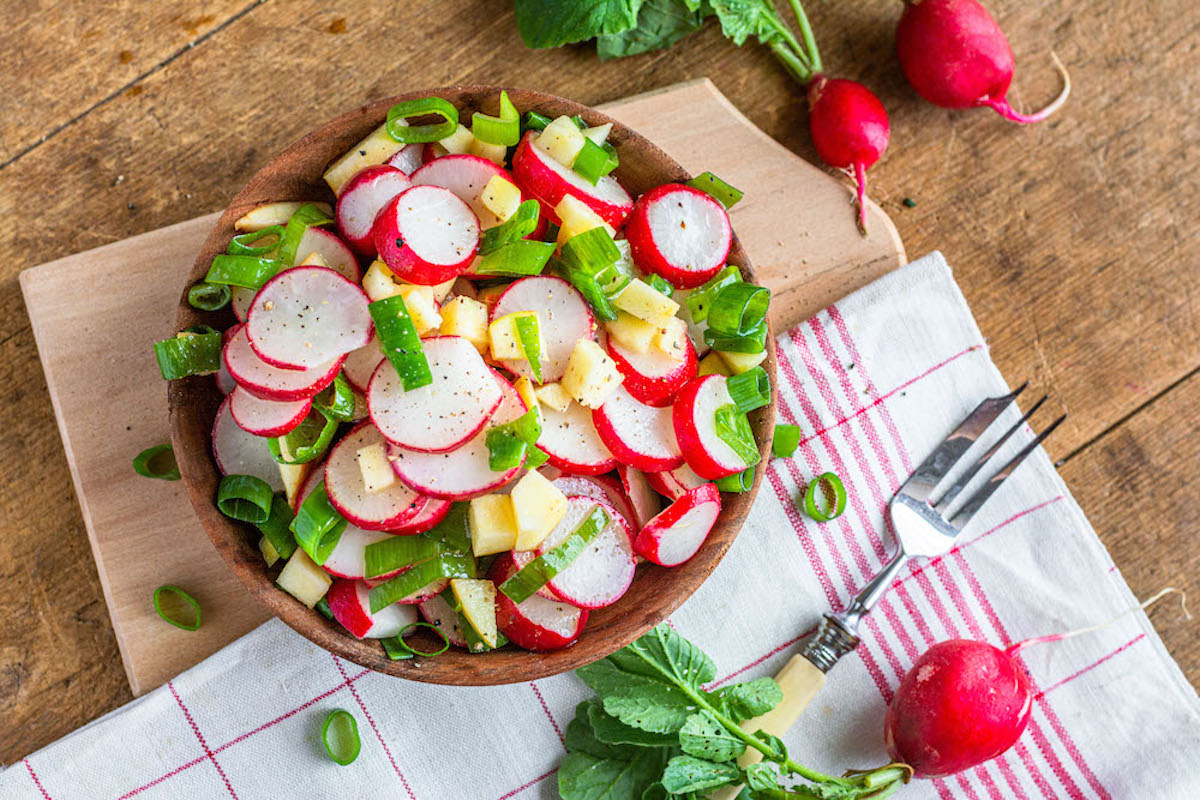 Jump to:
Quick and Easy Radish Salad
In my humble opinion, radishes have been wildly underutilized around the globe. They have, as of yet, not received nearly as much credit as they deserve. Therefore, I've made it my mission to boost this deliciously crisp root vegetable's ego a bit and present you with this delightful and easy-to-prepare dish.
A simple yet incredibly healthy salad made with radishes, apples, and scallions. The wonderful flavor combination, paired with some zest, sweetness, and tanginess, will have you feeling like summer is quite literally knocking on your door. So, if you're looking for some crunch, you've most certainly come to the right place. Enjoy this refreshing salad!
The radish apple salad is:
quickly prepared in under 15 minutes.
incredibly simple, no fancy ingredients or utensils.
vegetarian (or vegan) and gluten-free.
low in calories and low-carb.
healthy.
My blog post will have further detailed information and tips on the ingredients, preparation, variations, etc. Scroll to the very bottom of this page to find the exact recipe along with a printable version thereof OR jump directly to the recipe card. Easy-peasy, right?
Ingredients
Only a few simple ingredients are required to create this magical apple radish salad: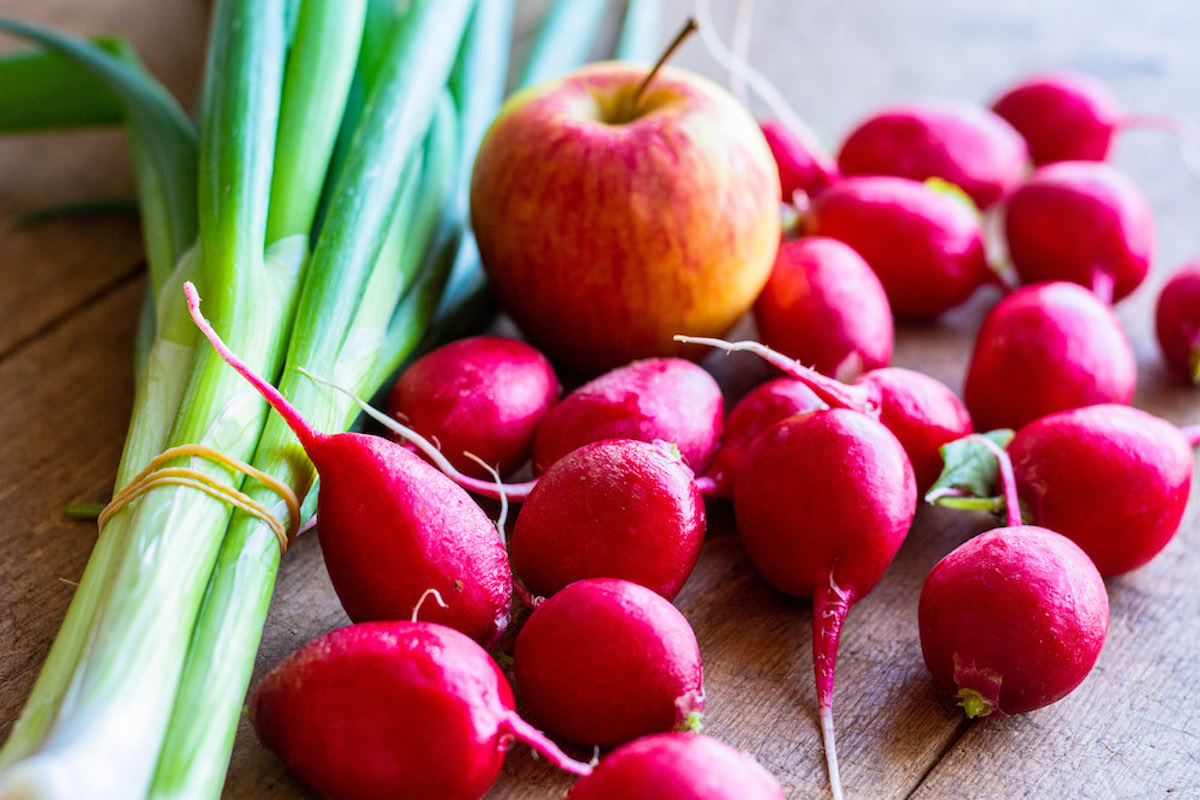 Radishes: These crisp little red bulbs – also referred to as…yes, you guessed correctly, radishes 😉 – obviously form the base of this salad. Simply slice them thinly and toss them into a bowl. While you're at the store, give the radishes a little "squeeze" test to make sure their crunch is up to par. The freshness and crunch of your produce will make up half the bill when it comes to this salad.
Apples: The slight sweetness of the apple complements the sharpness of the radishes. I highly recommend using a tarter, crunchier apple as this will harmonize particularly well with the salad.
Spring onions (or scallions): The slight pungency of the spring onions is the perfect match for this salad, while also providing some "eye candy" through its splash of color. For a more pronounced or intense flavor, use "regular" onions instead.
See recipe card for exact quantities.
Topped off with a delicious but also easy dressing made with olive oil, water, mustard, honey as well as salt and pepper, et voilà, we have yet another delightful summery salad to add to our arsenal of quick and easy recipes!
For a vegan radish dish, simply replace the honey with, for example, agave syrup! Enjoy.
Instructions
The radish salad with apples is super simple and quick to prepare:
Step 1
Let's tackle the radishes. For starters, remove the leafy tops (or radish greens) and thoroughly wash the red bulbs. Since we are going to devour the skin as well, you might have to put in some elbow grease and scrub them just a bit to make sure we won't be 'crunching' and 'munching' on some leftover dirt while trying to enjoy our well-deserved summer salad. 😉 Next, cut off both ends of each radish and slice them thinly. Technically, you could also grate them or use a mandolin (no mandolin for you, my friend, if you fall into the "clumsy"-category), but you may already have sliced them up by the time you grab either one.
Also, there is a possibility of the radishes being sliced too thinly (that depends on your grater/mandolin, of course), thus releasing too much water. But as always, your kitchen, your rules.
My recommendation, however, is to slice them using a knife, as we really want to focus on keeping their crunch intact.
Step 2
Wash the apple, quarter it, remove the core, and chop it into small pieces. No need to peel the apple. Time saved! *high-five*
Now, thoroughly wash the spring onions and cut them into small chunks or rings.
Step 3
For the dressing, combine olive oil, water, mustard, and honey in a container and mix well. Either mix well using a whisk (honey and mustard should be nicely blended and dispersed) or use a screw-top container/jar, close the lid, and shake well.
Step 4
Toss the radishes, apples, and spring onions into your bowl, drizzle the dressing over the mixture, season with salt and pepper, and, last but not least, give it a good stir. That's it! You've created a delicious salad in under 15 minutes! What?! 😉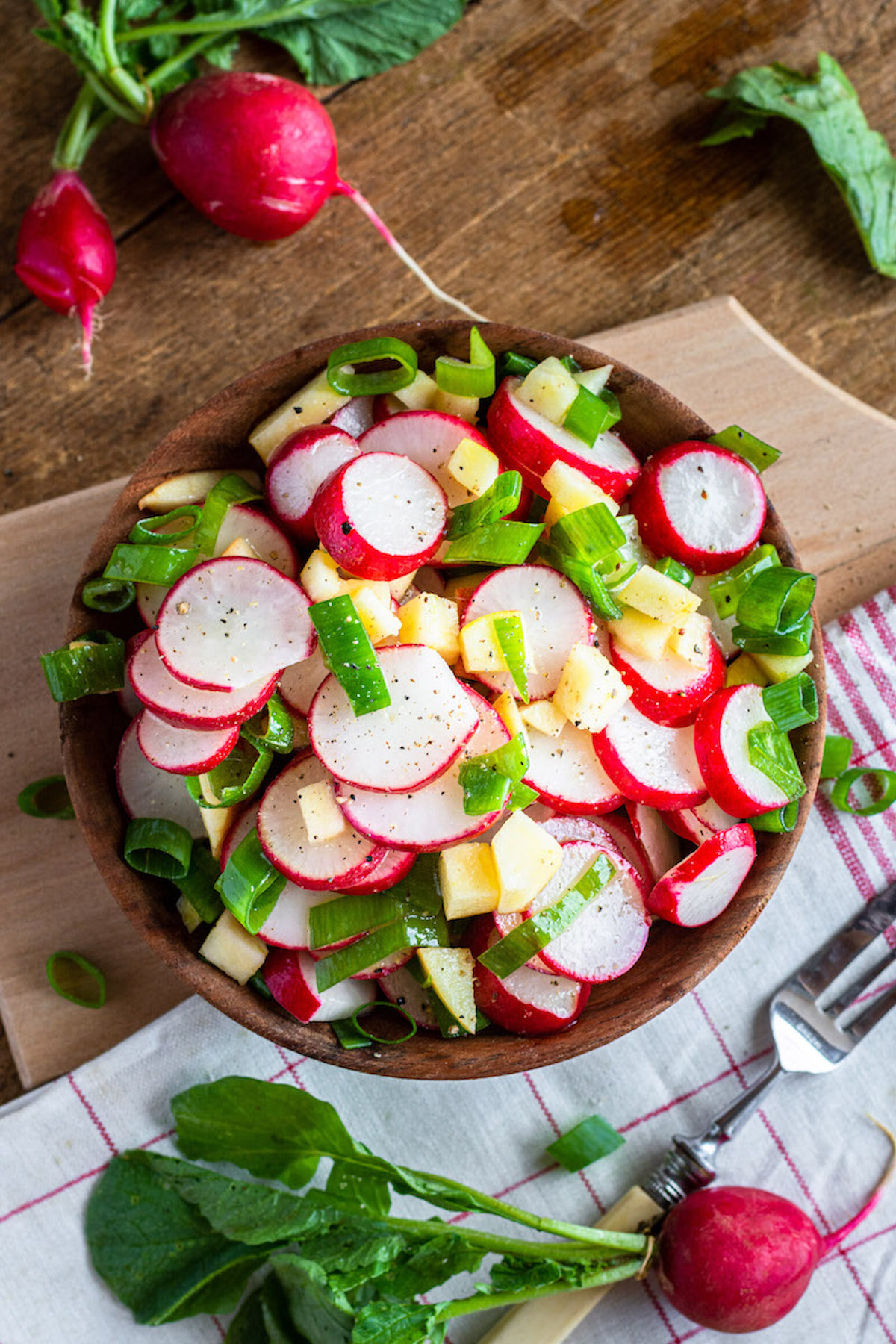 Variations
Even though I've kept it quite simple and easy with this super delightful creation, I'd like to give you a few more options and ideas on different variations for the healthy radish and apple salad:
Walnuts would be a fantastic addition to this salad.
If you are looking for a more intense flavor, opt for "regular" onions instead of spring onions. Now, if you're looking to tone down the intensity or are just aiming for something on the milder side, grab some chives instead. I love me some chives!
In addition to chives, fresh parsley would also be a strong contender for this salad.
Looking for a vegan version, simply replace the honey with agave syrup, for example
I, myself, prefer the consistency and crispness when sticking to the recipe 'to a T'. However, it is as they say 'different strokes for different folks' and by offering additional ideas and variations to the original recipe, I am not only broadening mine but everyone else's 'taste bud' horizon as well. In the world of taste, there is always room for creating new flavor combinations! Additionally, if you feel like adding another little visual twist, go ahead and cut your produce into strips or grate it. Put your own spin on it and have fun with it!
Is the recipe a bit too pungent for you? Add more apples and/or less mustard! Or sweeten it up by adding more honey. The world is your oyster! 😉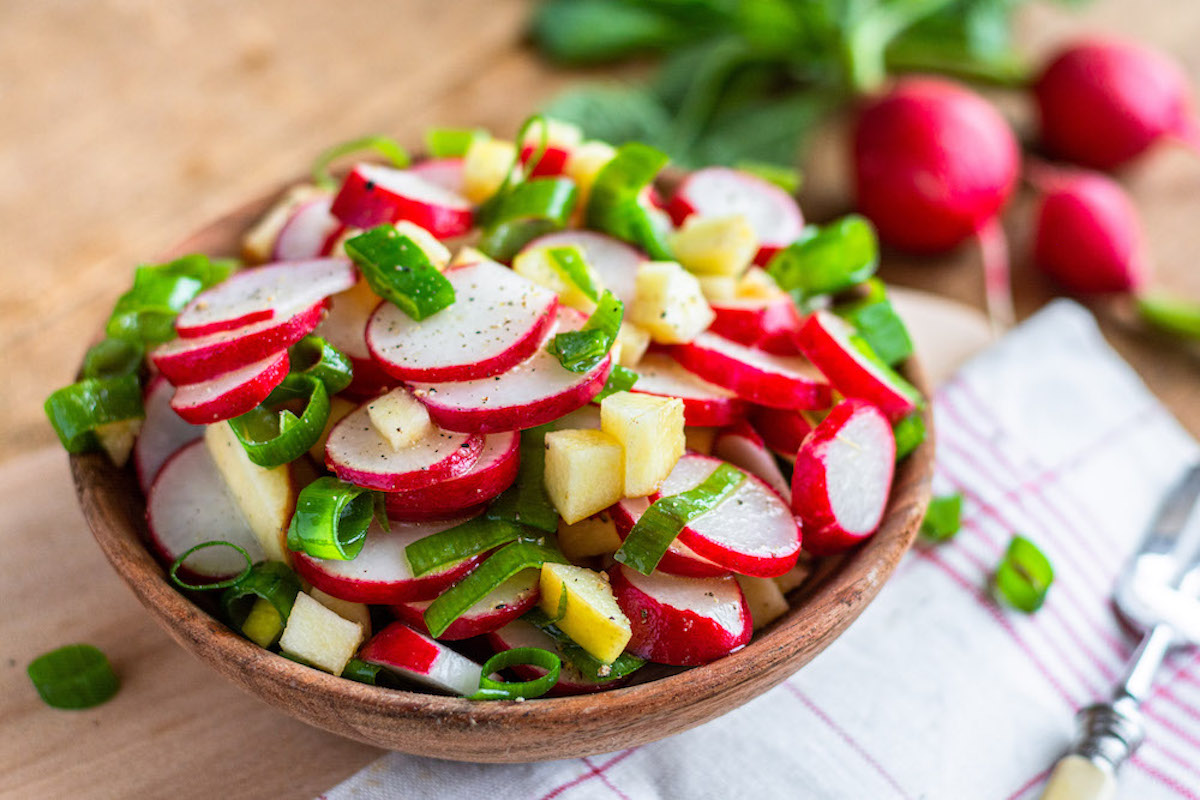 Storage
The radish salad with apples is best enjoyed after having "rested" for a short while. Resting allows ingredients and aromatics to disperse and fully develop their flavors. Therefore, go right ahead and prep it a little ahead of time. You can thank me later! 😉
Any leftovers may be stored in an airtight container in the fridge and will last for up to 2 days. Knowing in advance that you will quite possibly max out the 2-day storage limit, mix in some fresh lemon juice to avoid excessive browning of the apples.
The salad might release some water over time. Please note that additional liquids won't affect the taste, but I do recommend enjoying this delicious creation soon after its resting period. It'll still taste great on days 1 and 2 as well, just maybe not quite as fresh and crunchy! It's also never too late to 'touch up' your salad's seasoning by adding some salt and pepper and/or whatever you believe it may be lacking at that point. 😉
Related
Looking for other amazing salad recipes? Try these:
Recipe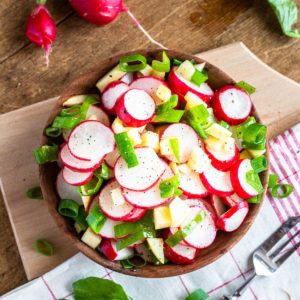 Radish Salad with Apples
Simple radish salad with apples and scallions – crunchy, refreshing, quick, easy, and especially tasty.
Print
Pin
Rate
Ingredients
Salad
16

oz

fresh radishes

1

apple

3-4

spring onions

(scallions)
Dressing
2

tbsp

olive oil

3

tbsp

water

1

tsp

honey

1/2

tsp

Dijon mustard

salt, black pepper
Instructions
Remove the leafy tops. Thoroughly wash the radishes and remove both ends of each bulb. Then, slice thinly.

Wash apple and chop into small pieces. Thoroughly wash spring onions and cut into small chunks or rings as well.

To create dressing, combine olive oil, water, mustard, and honey and mix well.

Put all ingredients in a bowl. Add dressing, season to taste with salt and pepper, and give it a good stir.
Nutrition
Did you make this recipe?
Please leave a rating and a comment below - I'd really appreciate that - thanks!