You will go bananas (pun intended) over this oatmeal made with banana cashew nut butter. It is incredibly creamy and delicious and will elevate your taste buds to a new level.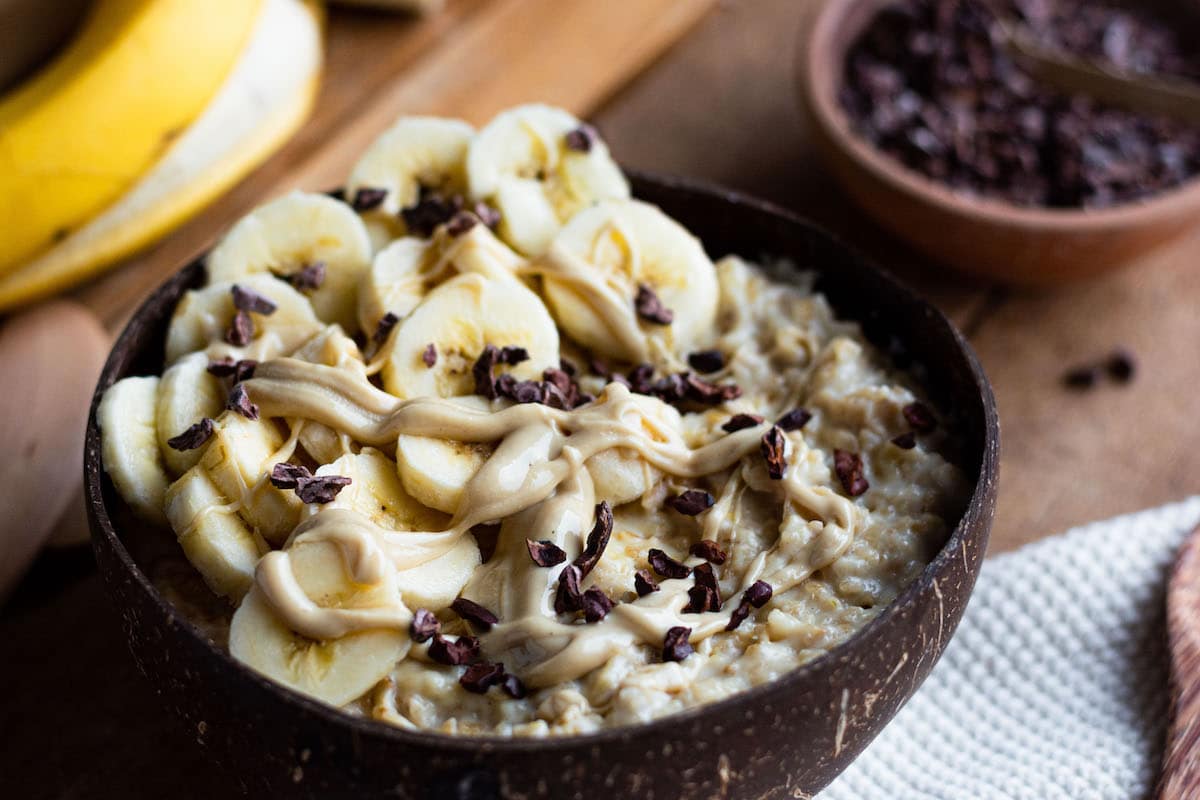 A simple and quick recipe for a well-balanced and healthy breakfast that provides a particularly unique taste. One might also call it a "culinary delight" ;)! This recipe is also ideal if you are on the lookout for different ways and methods to incorporate cashew nut butter.
Creamy Oats with Banana and Cashew Nut Butter
This oatmeal is so incredibly creamy with a particularly unique taste! My secret weapon, you might ask? Well, I'd be happy to share. An overripe banana! All you need to do is mash an overripe banana and mix it well with the cashew nut butter. This delicious nut butter will then be folded into your oatmeal.
I am a huge fan of cashew nut butter and could quite literally eat this delightful concoction every day, all day….haha. It is quite versatile and if you have been wondering about other ways to incorporate cashew nut butter, then you have come to the right place! Read on.
Ingredients and Substitutions
You will only require 4 ingredients to create this deliciousness:
Rolled oats: This is the base for our cashew nut butter oatmeal. They are rich in fiber, will help keep you full longer, and are also incredibly beneficial to your digestive system. I would highly recommend using rolled oats, as these will add another level of creaminess and will also cut down on cooking time. Of course, you are more than welcome to use steel-cut oats, just know that these will take a bit longer to cook, and you will most likely need to add more liquid.
Milk: Cow's milk is my liquid of choice for this oatmeal. Feel free to use any vegan alternative of your preference, such as oat milk. Tip: unsweetened cashew milk would work especially well!
Banana: An overripe banana mashed with a fork and then mixed well with your cashew nut butter. This creates the extremely smooth texture of this dish while also providing a beautiful yet natural sweetness. A perfect way to use up your overripe bananas as well. So, it's a win-win situation in my book ;).
Cashew Nut Butter: The special ingredient in this recipe! Did I already mention how incredibly creamy this oatmeal is? 😉 The nut butter most definitely is the biggest contributor when it comes to this dish's creamy and smooth texture! Of course, you may use any other nut butter to your liking, (e.g., almond butter). But keep in mind that the particularly unique taste I was referring to earlier is primarily thanks to the usage of cashew nut butter. Give it a try! You've got nothing to lose ;). Use unsalted cashew nut butter, preferably no sugar.
See recipe card for quantities.
Instructions
This creamy banana cashew nut butter oatmeal is so easy to prepare. Here are the steps:
Add rolled oats and milk (or vegan alternative) to a saucepan or pot and slowly bring to a boil (stirring frequently to avoid burnt milk). Continue letting it simmer over low heat until oatmeal starts to thicken and reaches your preferred consistency.
Now, peel the overripe banana, put it in a small bowl or cup, and mash it well with a fork, then combine it with the cashew butter until well blended.
Pro Tip: You will have to try this banana cashew nut butter just as is, without adding anything. You will have no regrets! Try it, it's so delicious! I cannot help but lick the plate or bowl clean. There is no stopping me 😉
Add banana cashew nut butter to the oatmeal, let it simmer for a few more minutes, then remove from heat.
Garnish your creation by topping it with banana slices or some of that delicious cashew nut butter. You can easily spread it by using a knife and letting your creativity roam free by adding your own little personal touch to your culinary delight. A feast for your tummy and a feast for your eyes!
Any type of berries, fruits, cacao nibs or nuts would be a welcome addition to your oatmeal as well. There are endless opportunities ;)!
Recipe
Oatmeal with banana and cashew nut butter
Healthy oatmeal made with an overripe banana and cashew nut butter - so creamy!
Print
Pin
Rate
Ingredients
1/2

cup

rolled oats

1

cup

milk

1

small overripe banana

1

tbsp

cashew nut butter

unsalted, no sugar
Instructions
Bring rolled oats and milk slowly to a boil while stirring frequently and until oatmeal reaches preferred consistency.

In the meantime, mash the banana in a small bowl, then immediately combine with the cashew butter and blend well.

Add banana cashew nut butter to the oatmeal and let it simmer for another minute or two.
Notes
Please be very generous when it comes to measuring out the
indicated
1 tbsp of cashew nut butter.
It'll
just add to the creaminess and taste of your oatmeal. Enjoy!
Nutrition
Did you make this recipe?
Please leave a rating and a comment below - I'd really appreciate that - thanks!